MSI X99A XPOWER AC Motherboard Review
MSI is a world leading brand based in Taiwan, it designs, develops and manufactures computer hardware such as motherboards, graphics cards, All-In-One PCs, laptops etc.
Price at time of review:
£307.69 at
box.co.uk
Although the X99 platform was released last autumn which included support for the latest DDR4 memory, this is the latest cream of the crop motherboard from MSI that supports the Intel Haswell-E chipset and is designed for high end gamers and extreme overclockers.
Specifications from the MSI website
Supports New Intel® Core™ i7 processors Extreme Edition in LGA 2011-3 socket
Supports Quad Channel DDR4-3333(OC) Memory
USB 3.1: Delivering speeds up to 10Gb/s, USB 3.1 offers performance twice as fast as a regular USB 3.0 connection
Turbo M.2: Delivering next generation M.2 Gen3 x4 performance with transfer speeds up to 32 Gb/s
SATA Express + USB 3.1 + SATA 6Gb/s
4-way Multi-GPU: 4-way NVIDIA SLI & AMD CrossFire Support
OC Engine: For More Flexible BCLK Adjustments
OC Certified: Military Class Burn-in Test Passed
Enhanced Thermal Design
V-Check Points 2: 3 multi-meters at the same time
CeaseFire: Easily Disable PCI Express Slots Using An Onboard Switch
Guard-Pro: Improved Protection and Power Efficiency
Military Class 4: Top Quality & Stability
OC Essentials: Convenient Set Of Overclocking Tools While Breaking World Records
OC Genie 4: Overclock in 1 Second
Click BIOS 4: Easily Fine-tune Your System
Wi-Fi 802.11AC with speeds up to 867Mbps, Bluetooth 4.0
Packaging and contents
The X99A XPOWER AC comes packaged in a black and gold box with a big X logo on the front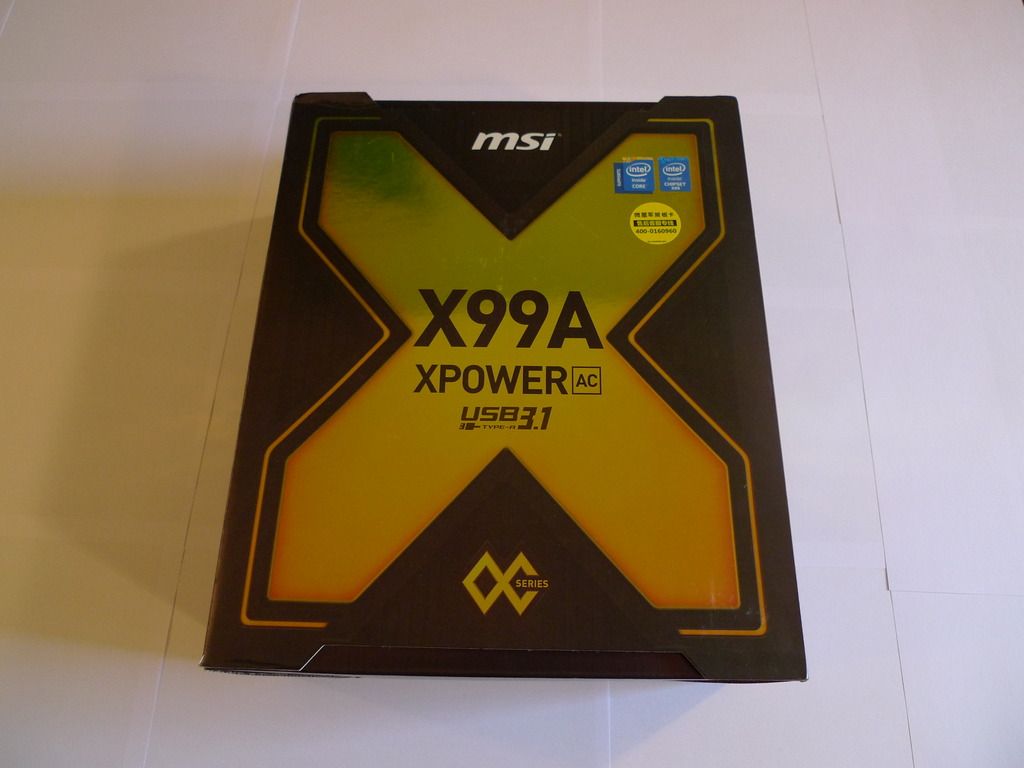 The box has a front flap that opens to reveal the main features of the board and the rear has more information and specifications.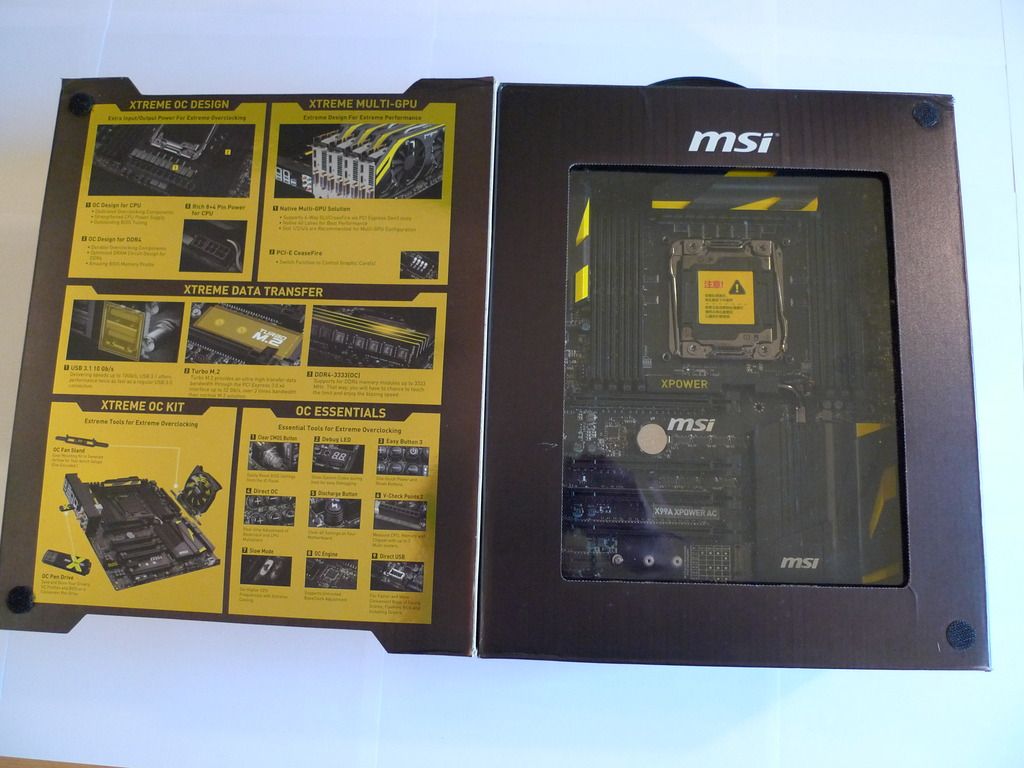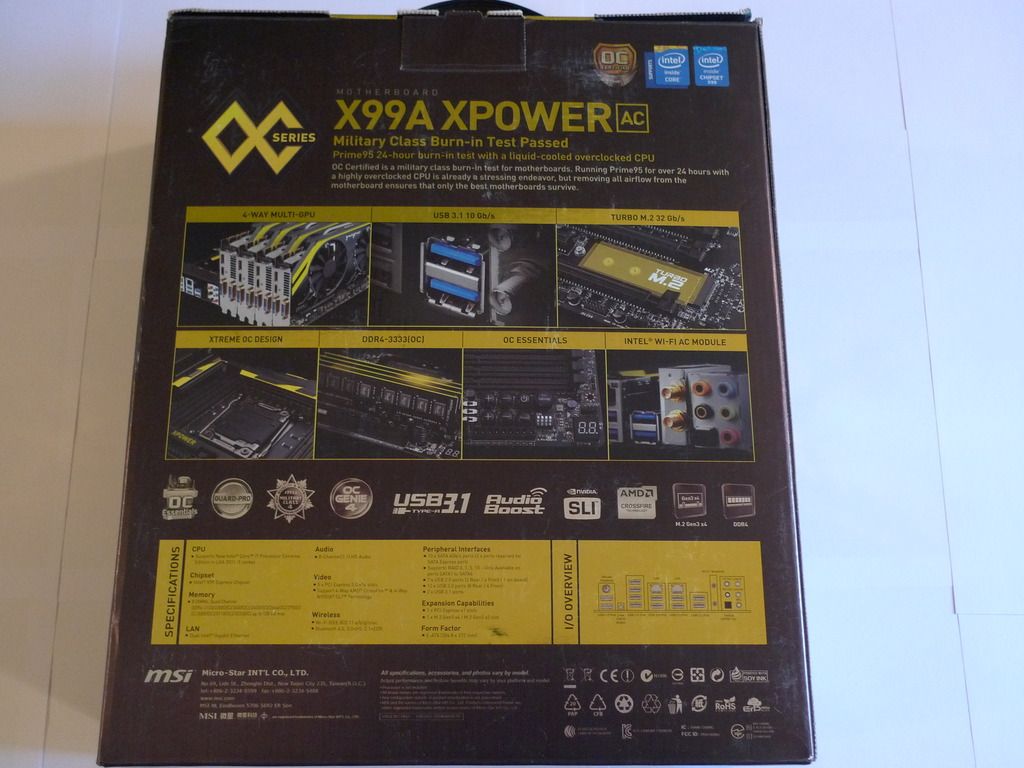 After taking the X99A XPOWER AC out of the box we find a black PCB and typical Lightning DNA colours with black and yellow heatsinks, the motherboard itself weighs a massive 1.3 KG.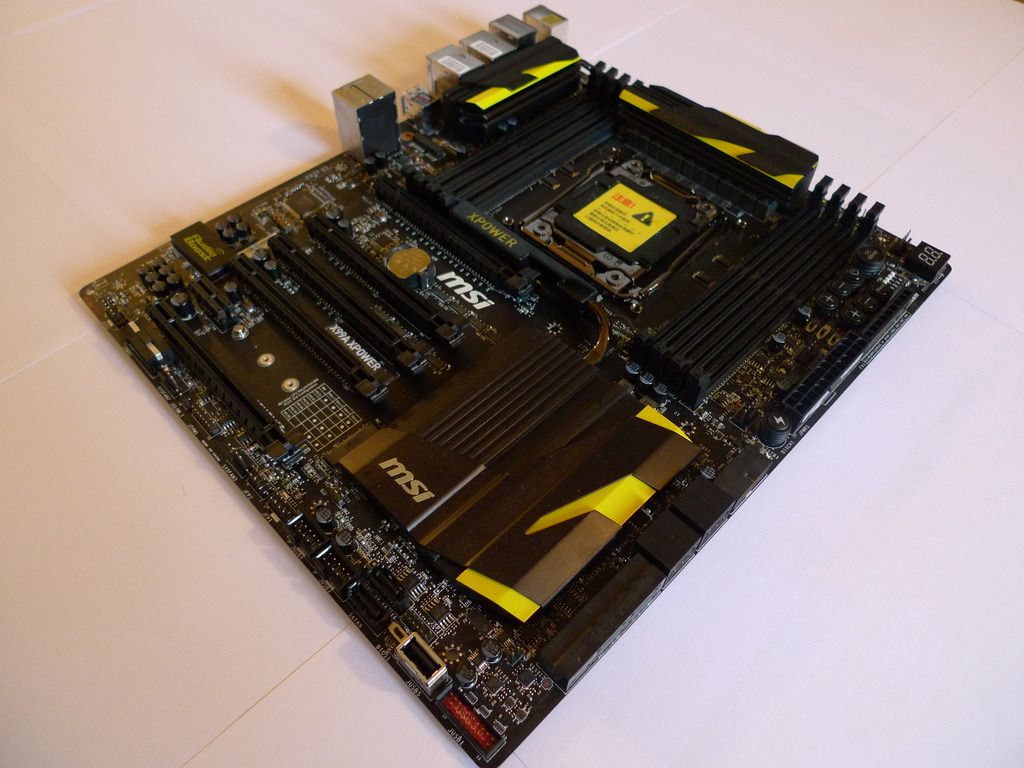 The XPOWER comes bundled with an User guide, an Overclocking guide, a Software and Application guide, driver CD, poster, stickers and a door hanger.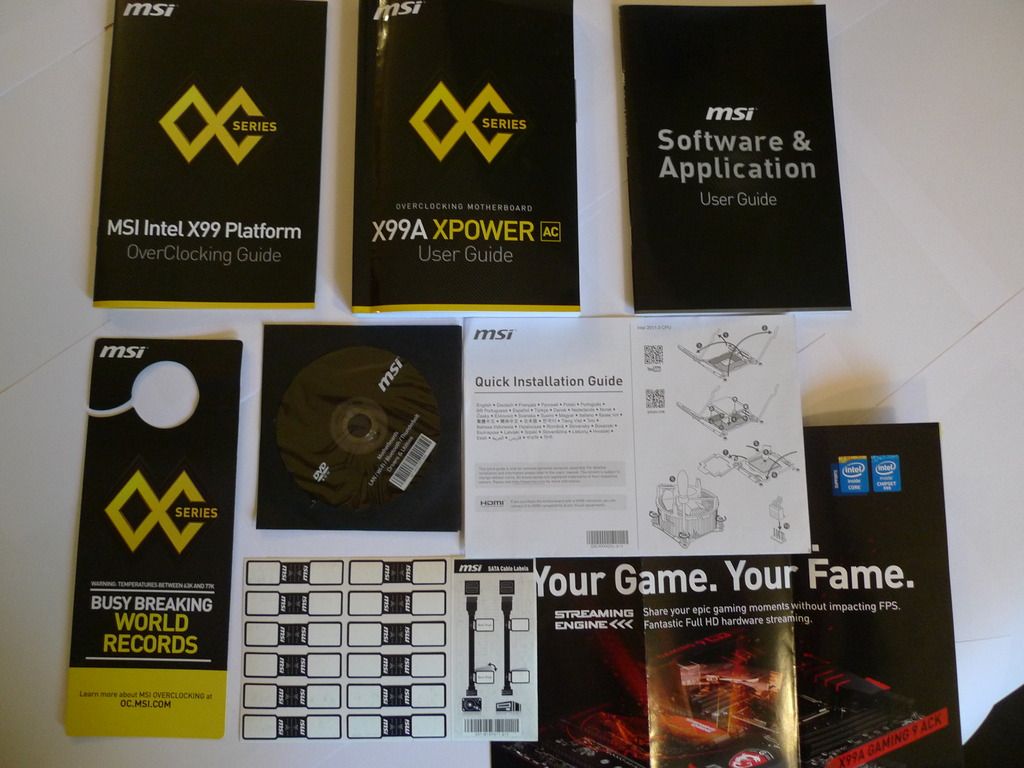 Several SATA cables, two Wi-Fi antennae and SLI bridges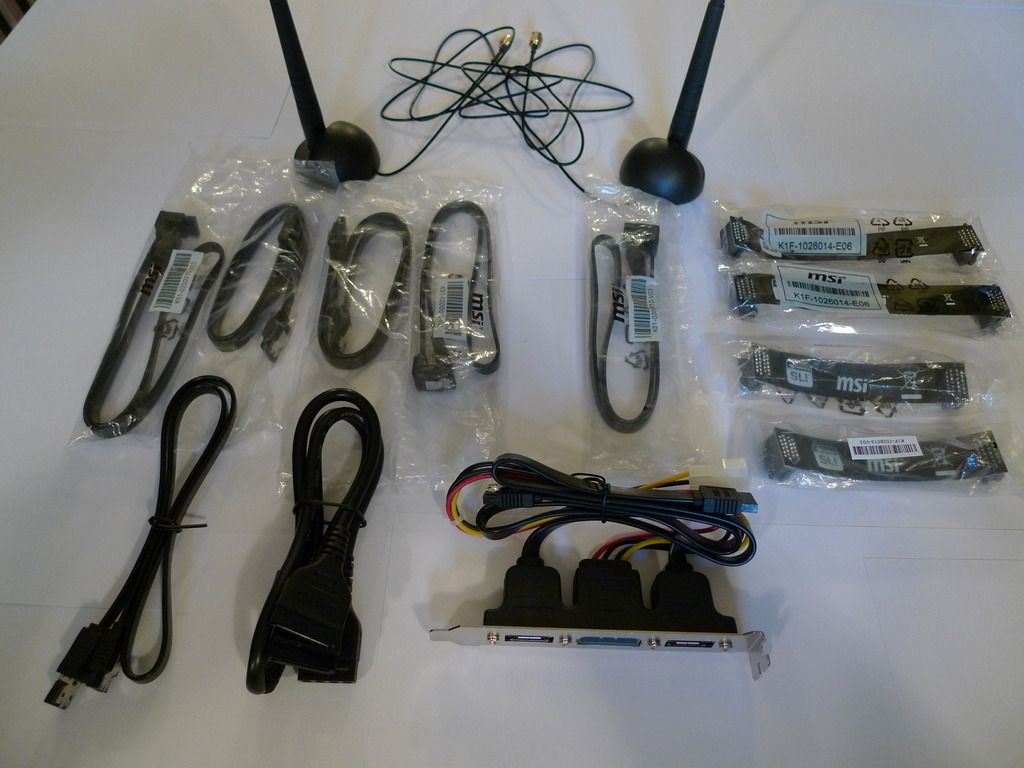 More accessories include a black IO cover and IO shield, an OC backplate for an LN2 pot, case sticker, dual band wi-fi adapter, V-check point cables, a handy usb stick with all the drivers on it and a fan bracket to cool the motherboard.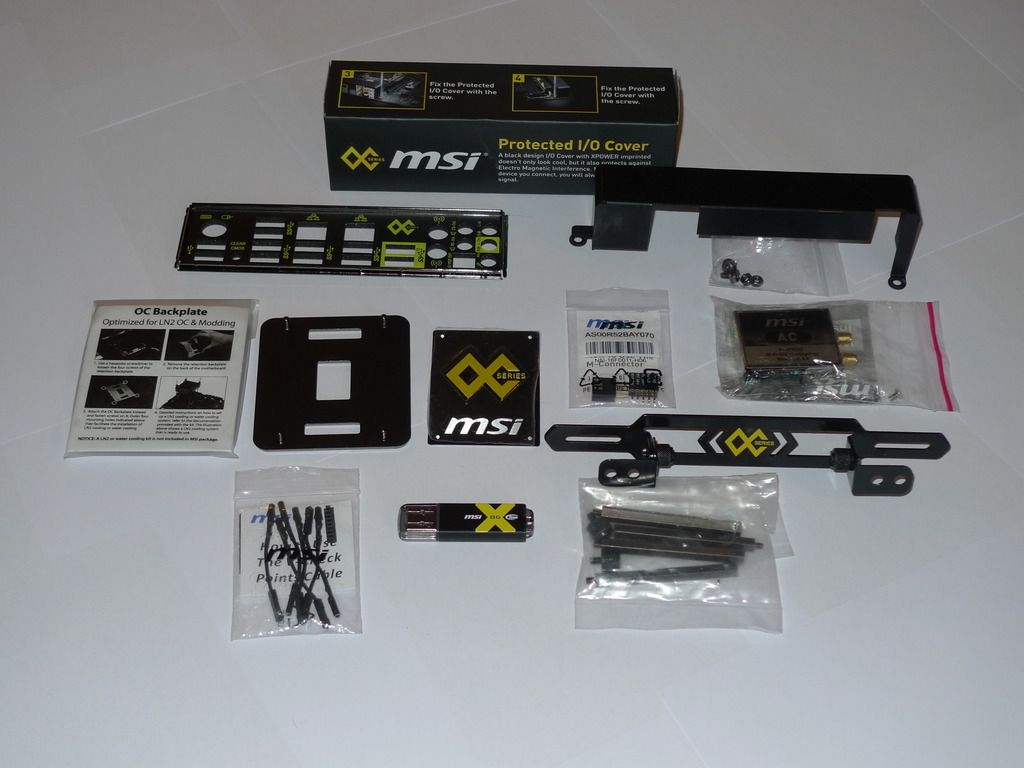 Features and Motherboard Layout
The X99A XPOWER AC has the OC socket for improved cache frequencies.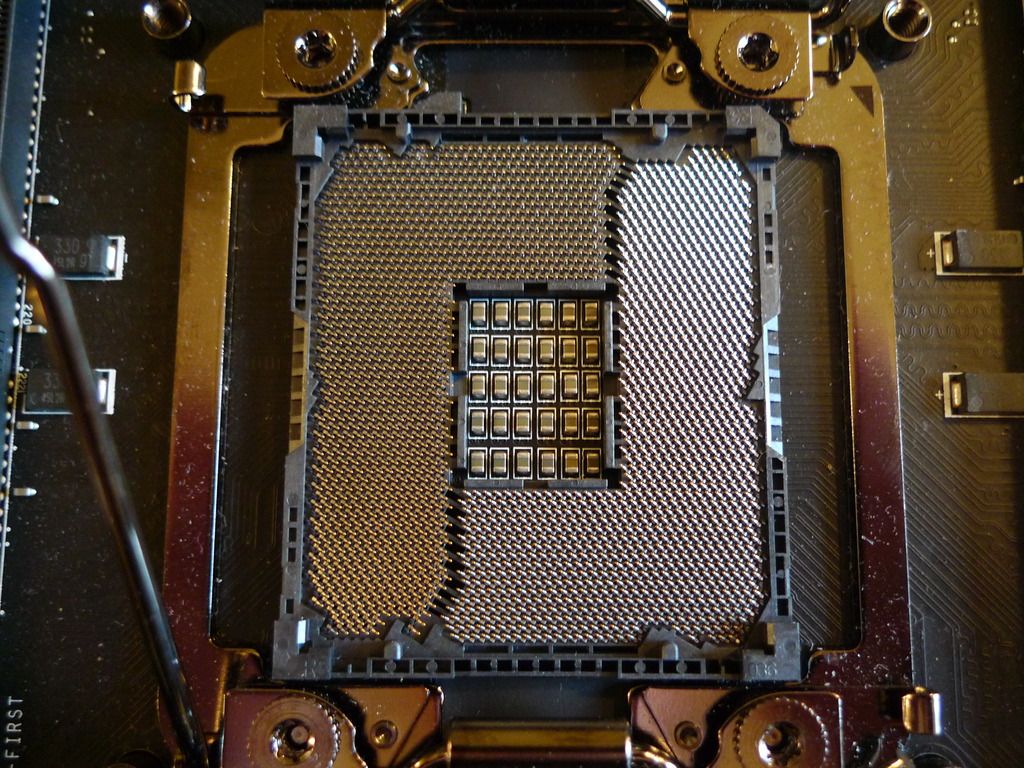 There is plenty of space around the socket so you can fit any cooling solution you want.
Having this much space also makes it easier to insulate the motherboard for use with LN2 or other extreme cooling solutions.
The X99A XPOWER AC also has a twelve phase power design and eight DIMM slots that support up to 128Gb of DDR4 memory.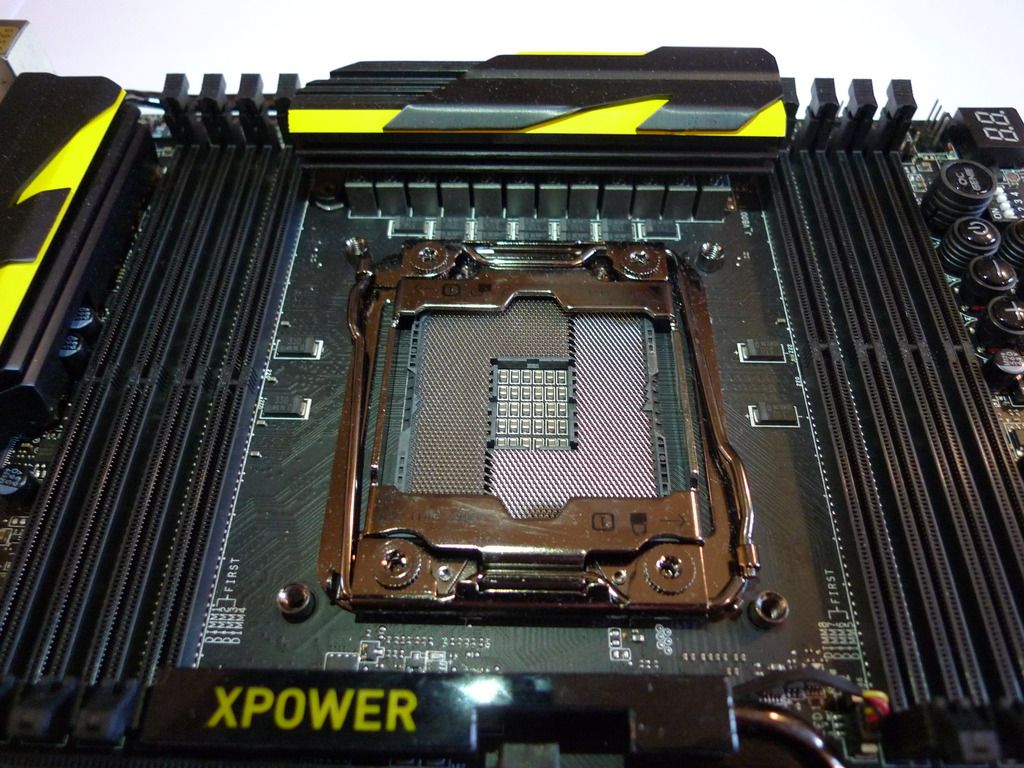 The motherboard features five PCI-E x16 and one PCI-E x1 slots , one nice feature is the diagram by the Turbo M.2 slot that clearly shows how to install multiple graphics cards.
Turbo M.2 is the fastest onboard storage solution on the planet. MSI X99 motherboards allows Turbo M.2 (Gen3 x4) to be used at the same time as SATA-Express.
All MSI X99 motherboards come with M.2. Gen3 x4 which offers 32Gb/s, 3x the speed of standard M.2 (Gen2 x2).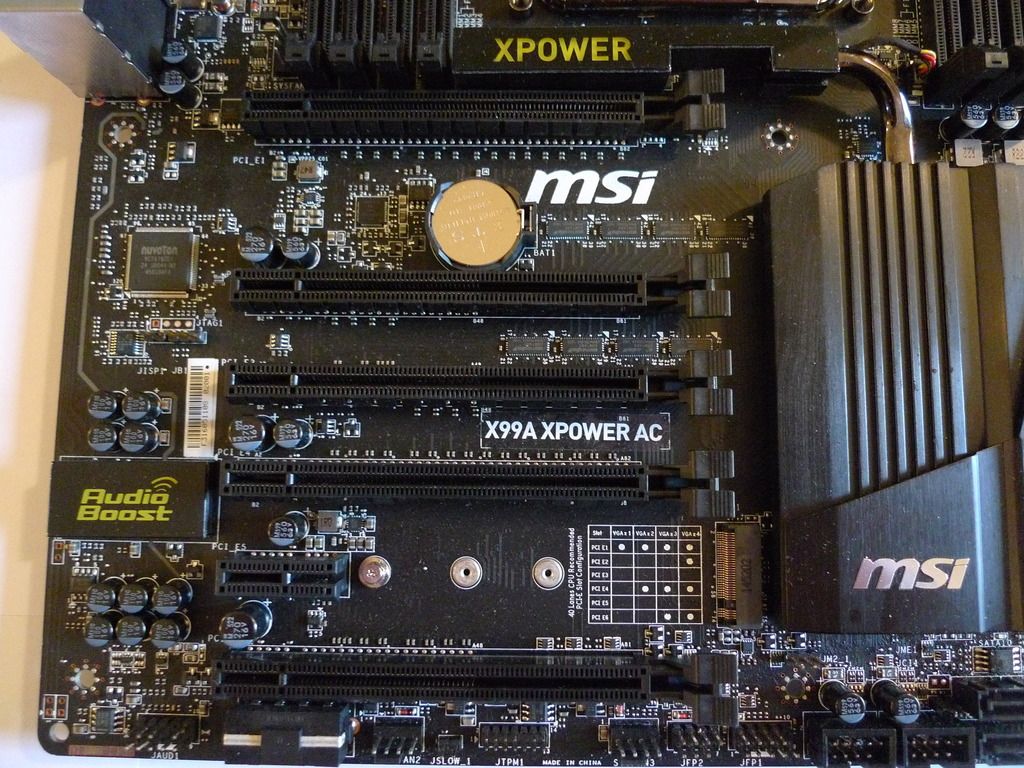 The back panel connectors consist of
1 x PS/2 port
2 x USB 2.0 ports
1 x Clear CMOS button
8 x USB 3.0 ports
2 x USB 3.1 ports
2 x Dual Intel LAN ports
1 x Optical S/PDIF OUT connector
5 x OFC audio jacks
USB 3.1 allows for speeds up to 10 Gbps, doubling the speed compared to USB 3.0 and 20x faster than legacy USB 2.0.
USB 3.1 is even faster than SATA III Transferring your favorite games, music and movies over USB has never been faster.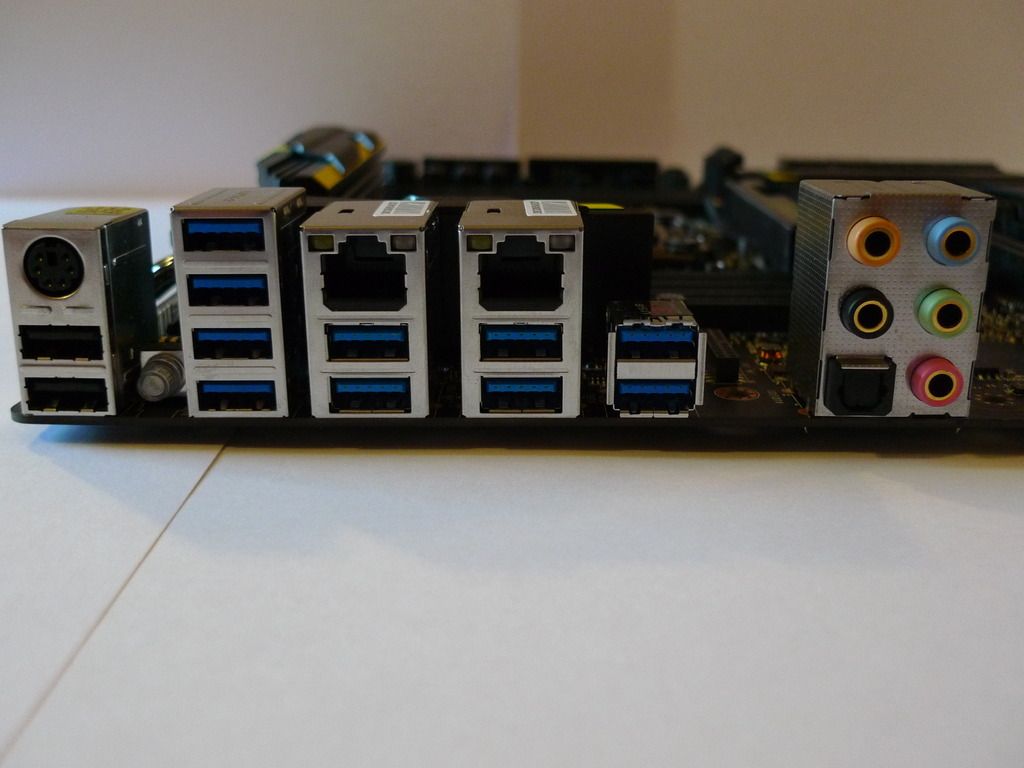 The X99A XPOWER AC has ten SATA 6GB/s ports and a SATA Express connector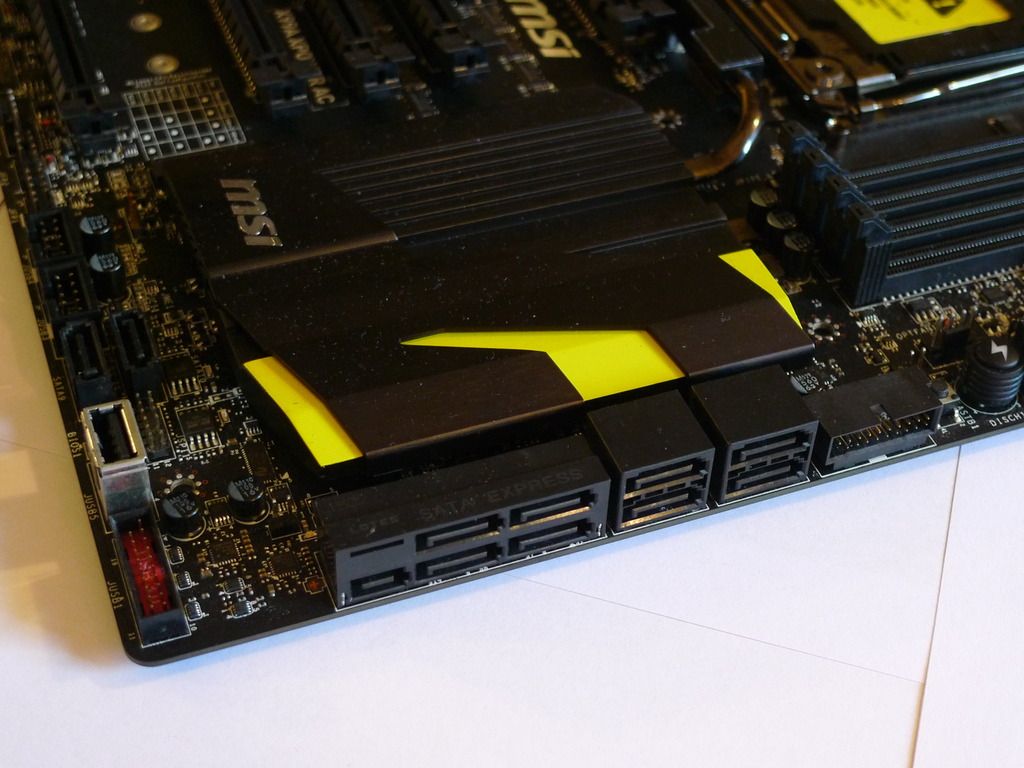 The X99A XPOWER AC has numerous on-board buttons and switches to control various functions.
The OC Genie button is used to automatically overclock the system. To enable OC Genie, set this button to ON while the system in in power off mode. On the next boot the processor will be automatically overclocked for optimal performance.
Watch this video to learn how to use the OC Genie button.
https://www.youtube.com/watch?v=nIpRvWkUazg
Below the OC Genie button are the four CeaseFire switches. When you are overclocking with LN2 with four graphics cards and want to switch to three or two cards you normally would have to remove the cards. However, with the LN2 pot on the motherboard and all the insulation, removing the card can be a big hassle. With MSI CeaseFire, it is very easy to disable one of the PCI-E x16 slots with a simple switch without the need of removing the cards.
We then have the Power and Reset buttons and two sets of + and – buttons that allows you to adjust your Base Clock and increase the multiplier ratio in real time, even during benchmarking. The other three switches on the left are the OC Genie Gear 1 and 2 mode switch, the LN2 Slow mode switch and the Base Clock step switch that allows you to make the 1MHZ or 0.1Mhz increments.
Here we also have the V-Check points, after MOA feedback MSI enhanced the V-Check Points with two extra ground connectors. This way overclockers can use three multi-meters at the same time.
1. VCCIN: CPU Input Voltage
2. DDR01: Memory Voltage
3. DDR23: Memory Voltage
4. SA Voltage
5. Ring Voltage
6. CPU Core Voltage
7. GND: Ground
8. GND: Ground
9. GND: Ground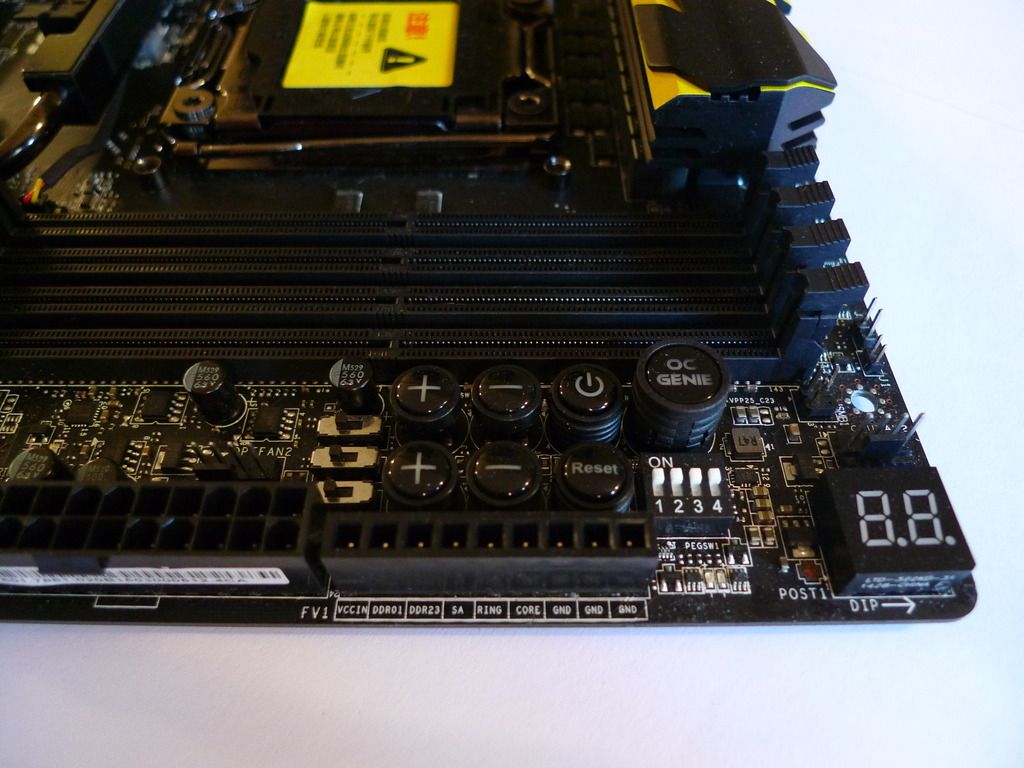 In the bottom right of the board we have the dual bios switch and a useful Direct USB port that allows for faster and more convenient ways of saving scores, flashing the BIOS and installing drivers and software when overclocking on an open test bed.
The Direct USB connector also allows for easy pre-testing of your hardware prior to installing it in a PC case.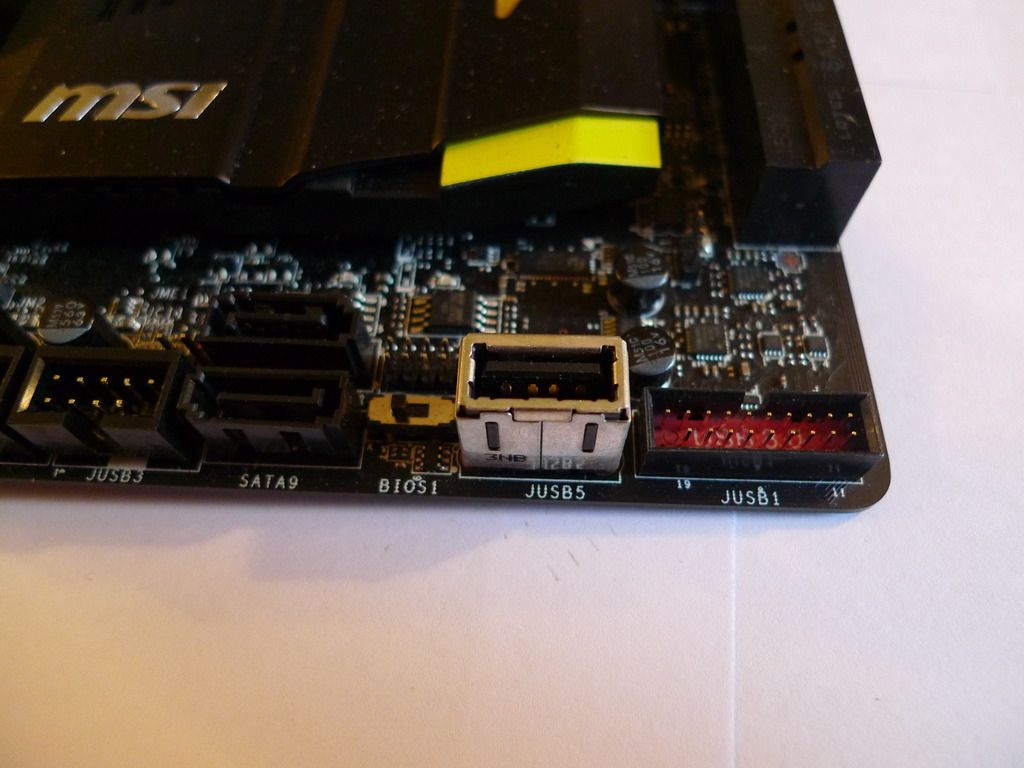 Finally we have the GO2BIOS switch and the Discharge button which is a true factory reset! Holding this button for two seconds completely wipes your motherboard from all settings.
The CLR CMOS button only limits itself to the BIOS/VRAM but this Complete Discharge button even removes information from the X99 PCH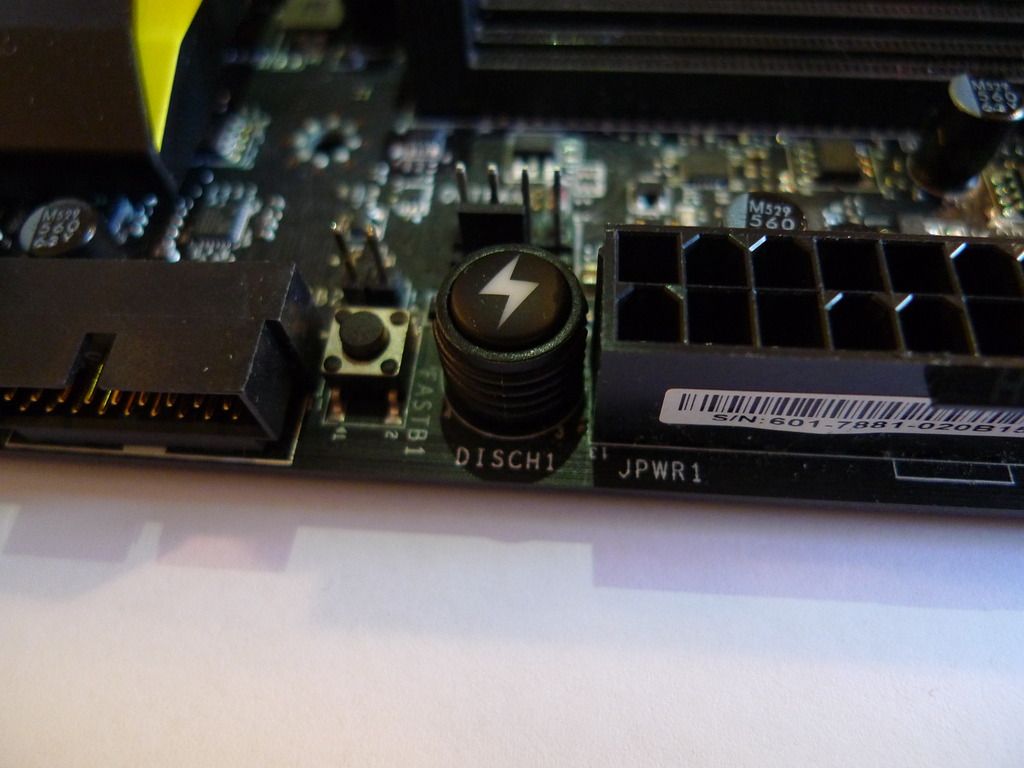 BIOS
The MSI UEFI BIOS interface is easy to use, it features both Simple and Advanced mode depending on your knowledge of overclocking.
It has an Extreme OC Setup mode for LN2 use and has several advanced tuning settings to get the best out of the board.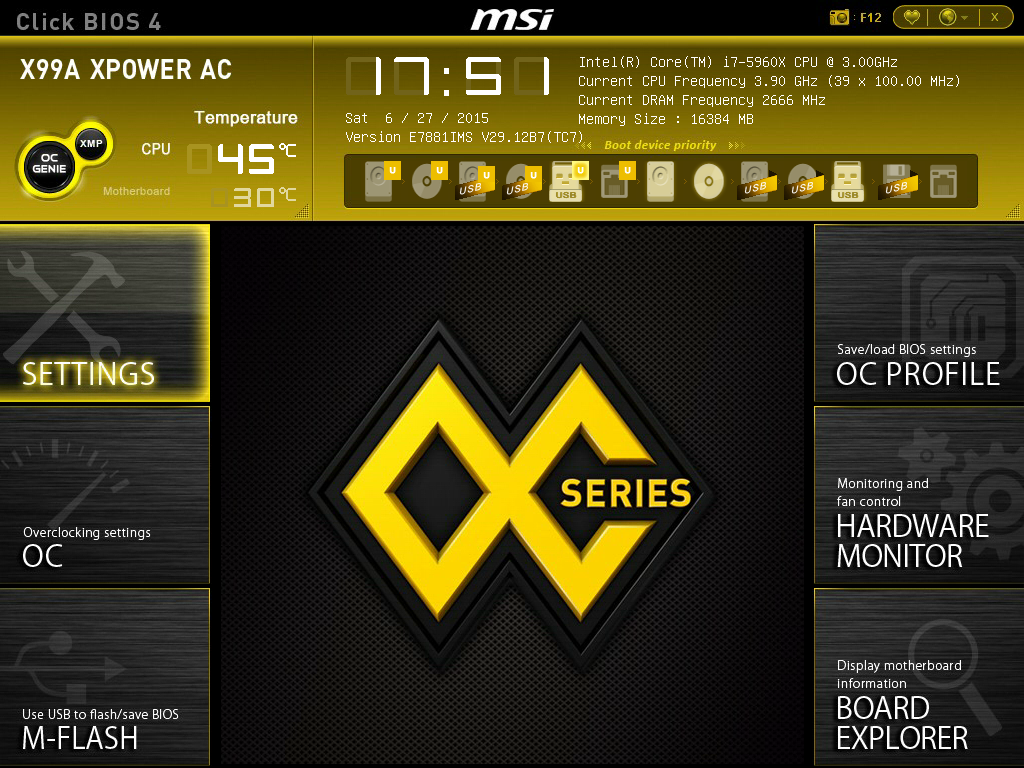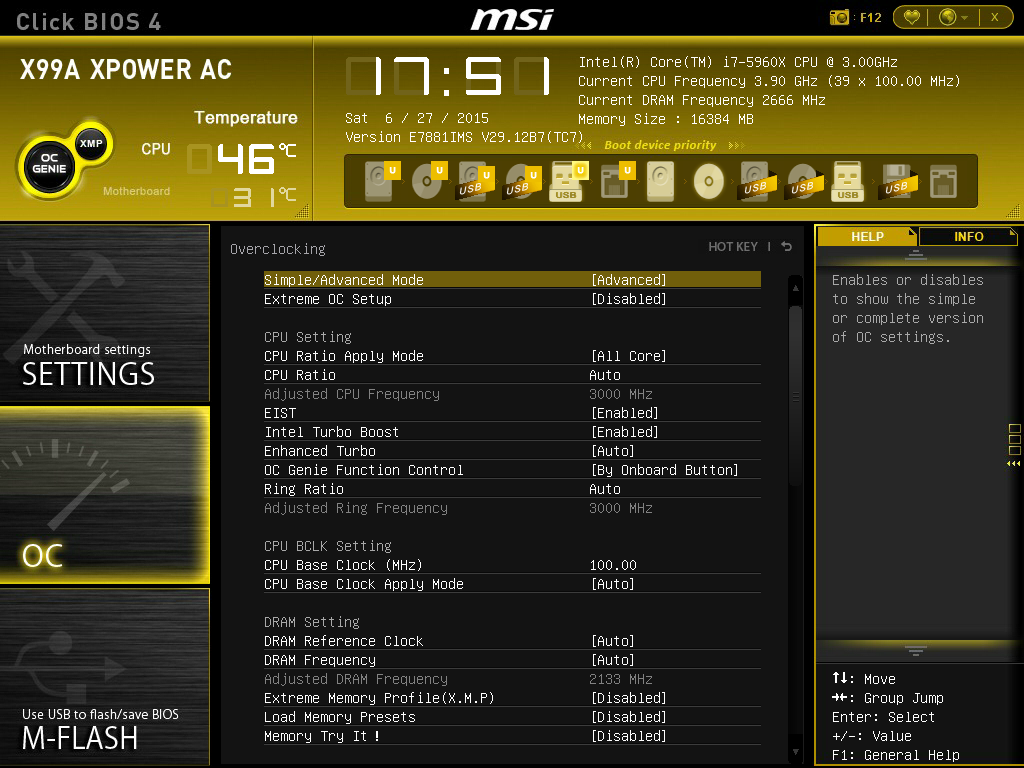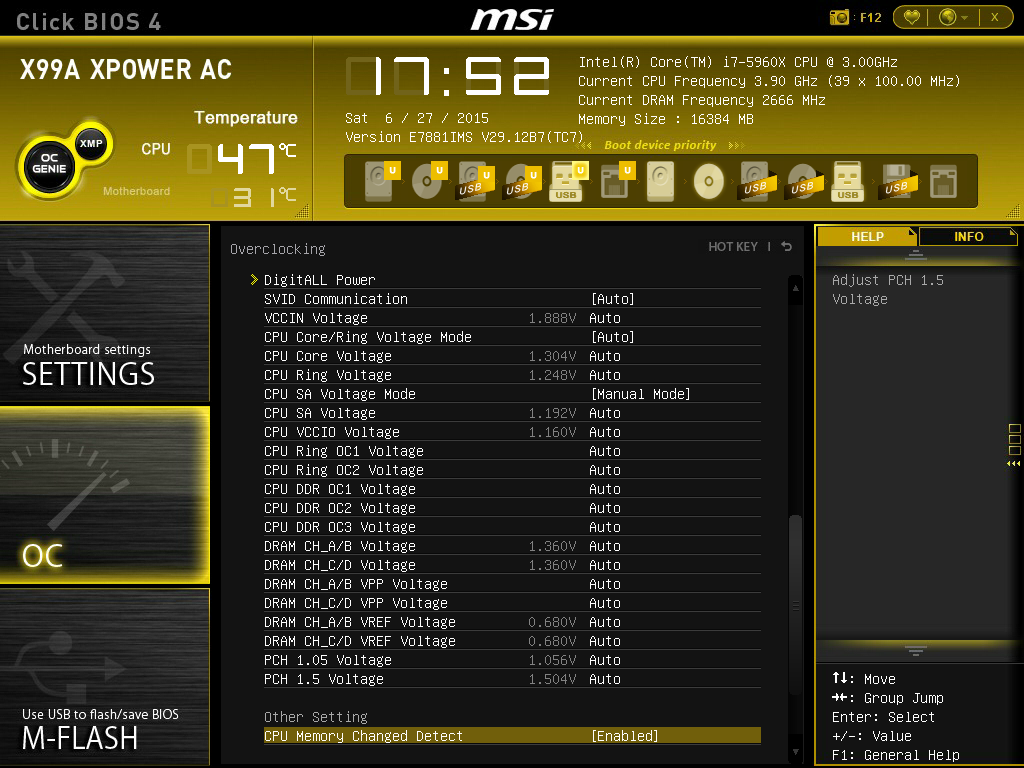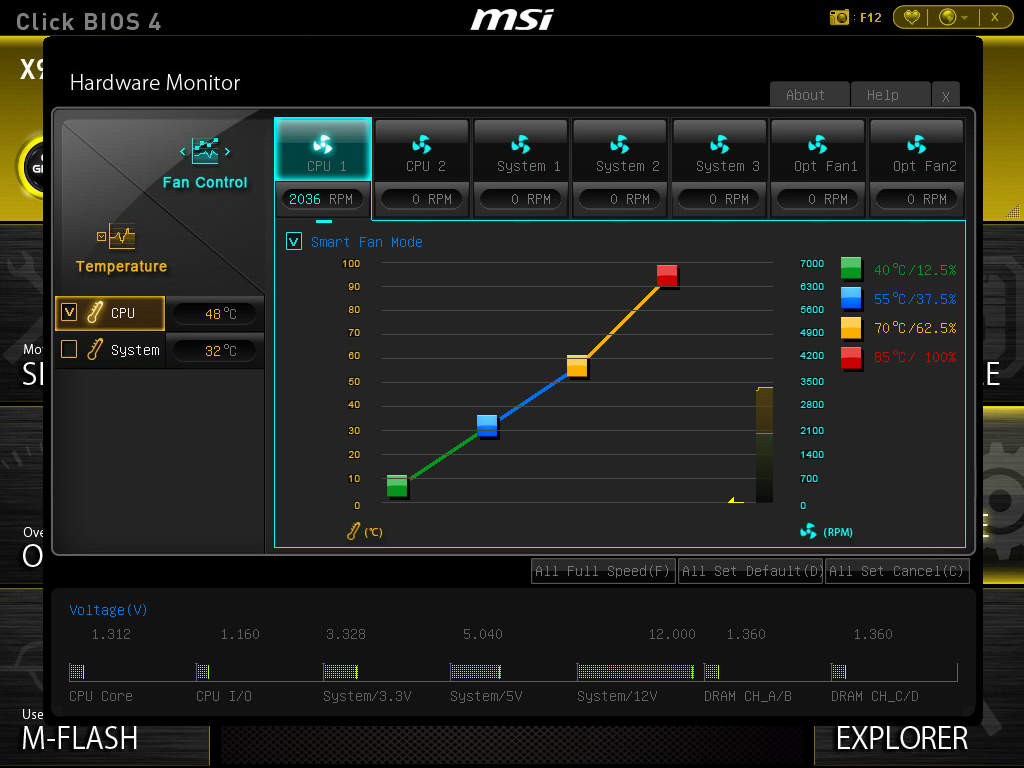 On the Overclocking page, MSI included a setting called Load Memory Presets, here you can select one of sixteen different memory overclocking parameters that include voltage and timing.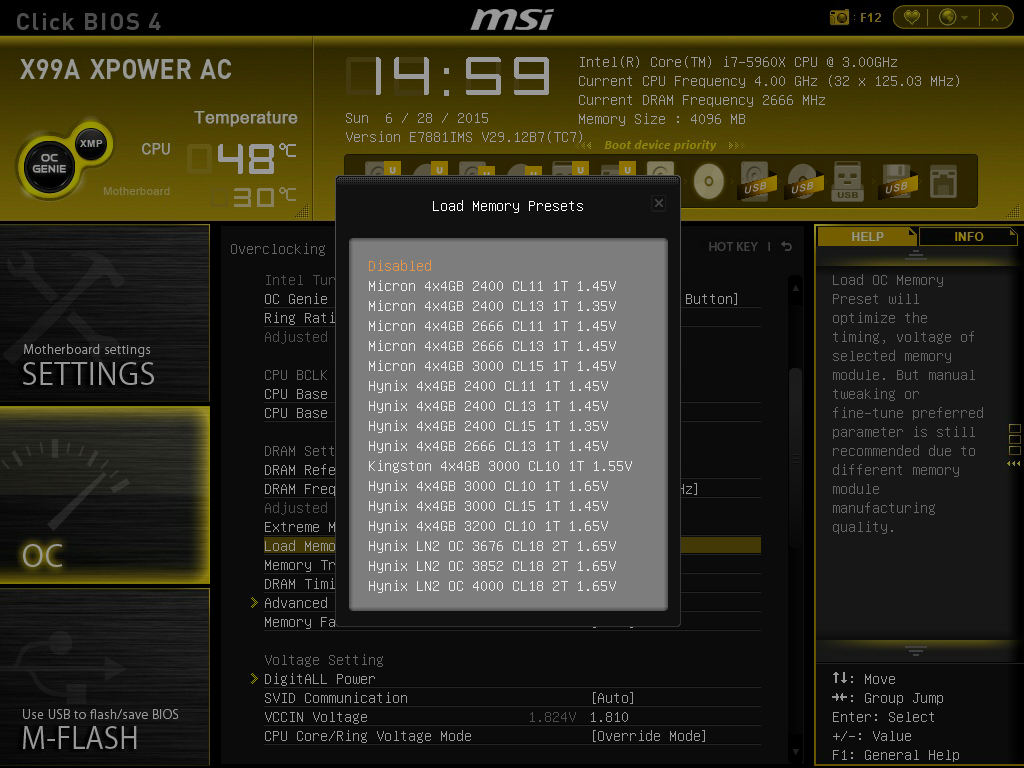 An example of the Hynix 4x4GB 2400 CL13 1T 1.45v loaded with tighter CL settings and sub-timings.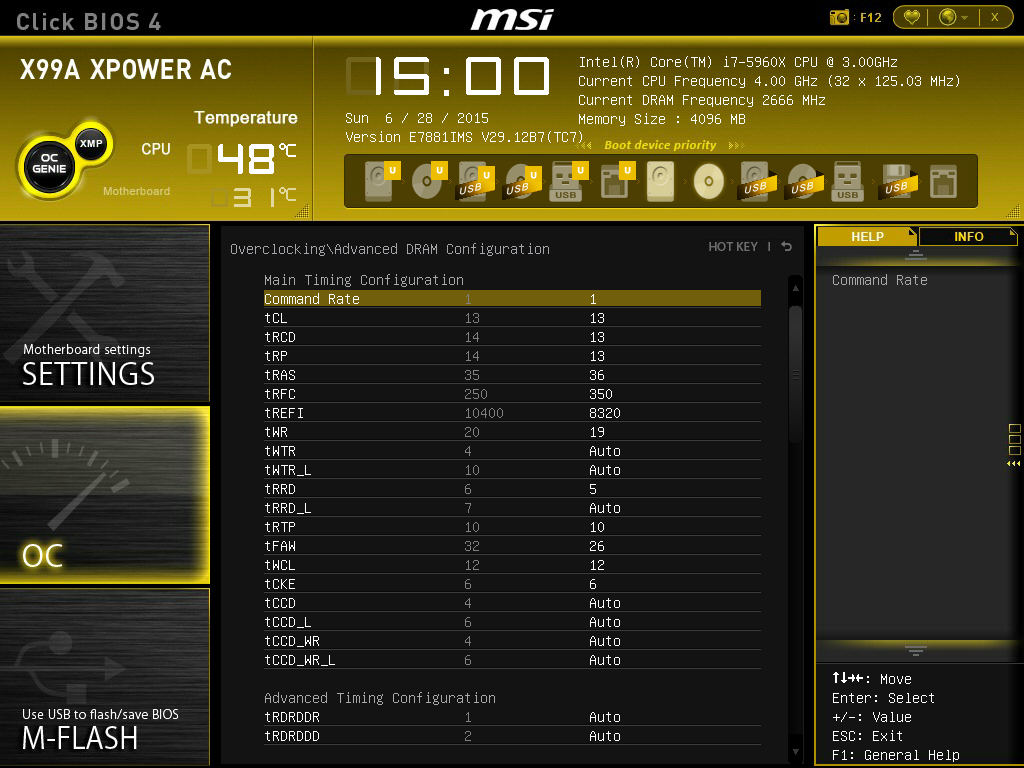 The Hynix LN2 OC 4000 CL18 2T 1.65v preset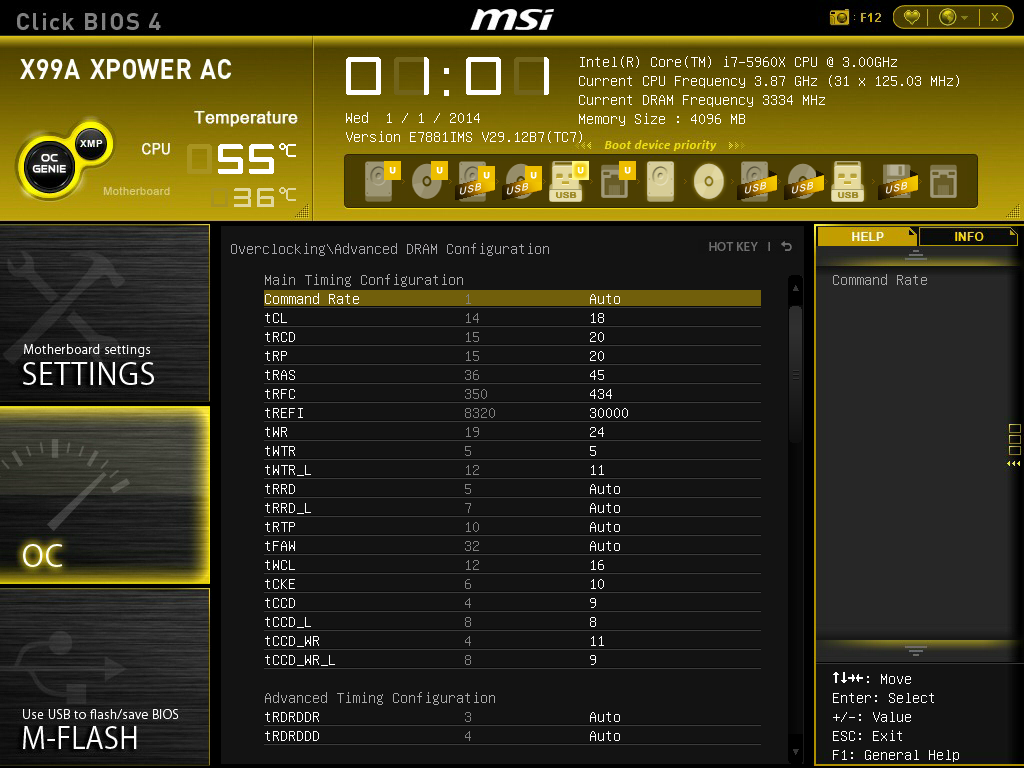 There is also a Memory Try It ! setting that gives you a choice of either Micron, Hynix or Samsung.
Select one of these and you'll have a further option of different presets to choose from as shown below.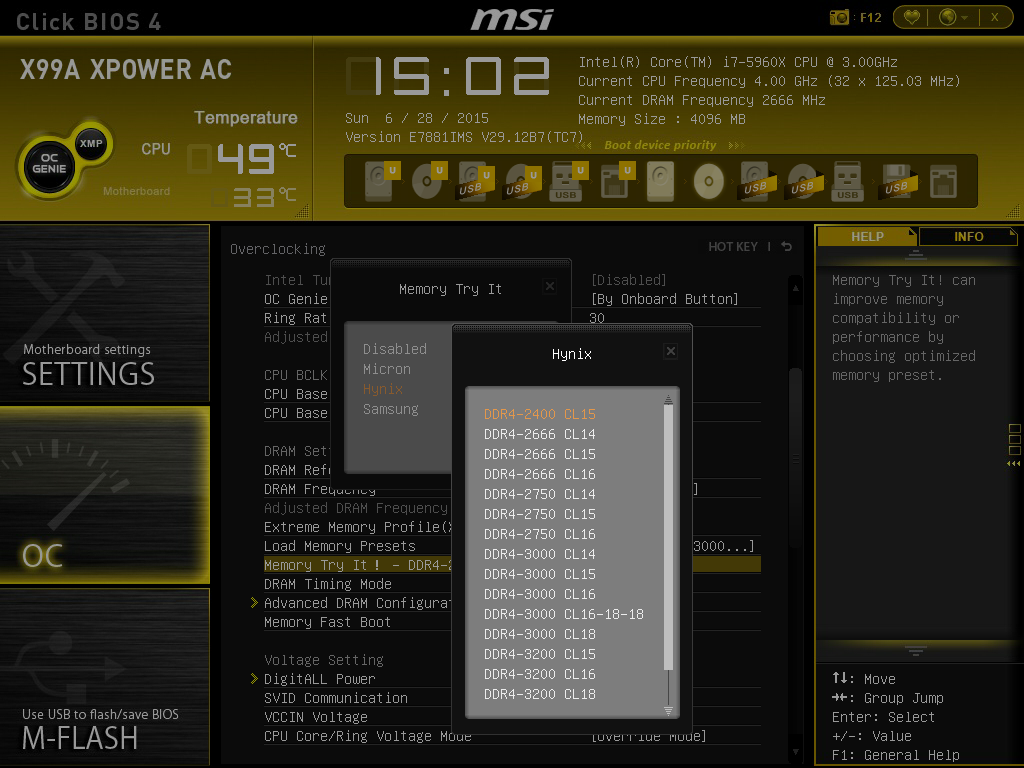 Test setup
Motherboard: MSI X99A XPOWER AC
Processor: Intel i7 5960X
Memory: G.Skill Ripjaws 4 16GB F4-3000C15Q-16GRK Quad Channel DDR4
Cooling: Prolimatech Megahalems CPU cooler and Arctic F12 fan
Case: Dimastech TestBench
When booting the Intel 5960X processor at default settings it would run at 3500 Mhz, Base clock of 100 MHz and the memory at 2133 MHz CL15 15 15 35 2T

Here are some benchmarks ran at those speeds
Cinebench R11.5
Score 15.19 pts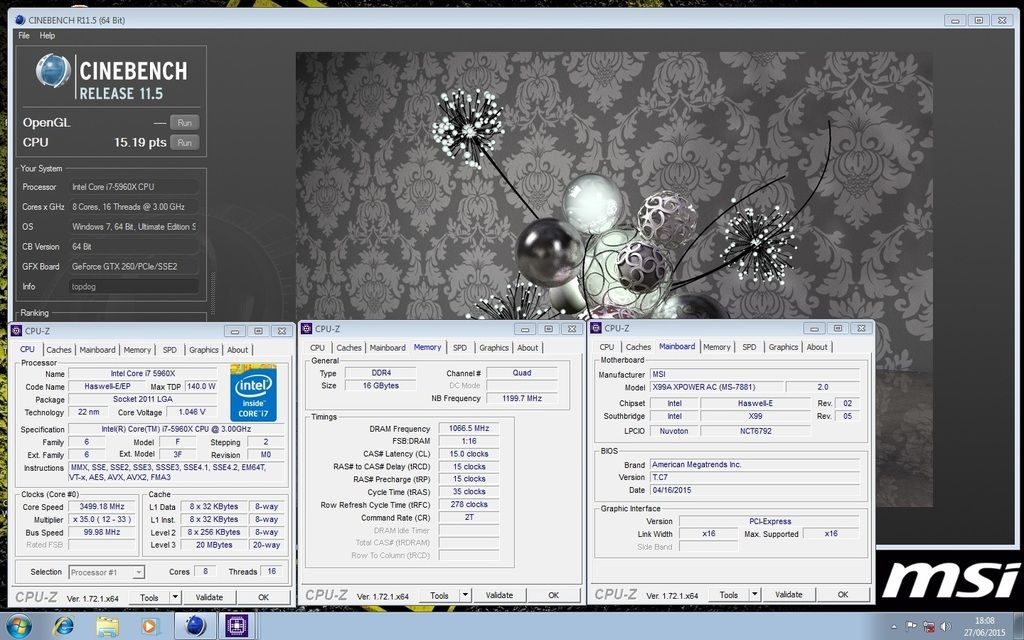 Cinebench R15
Score 1400 cb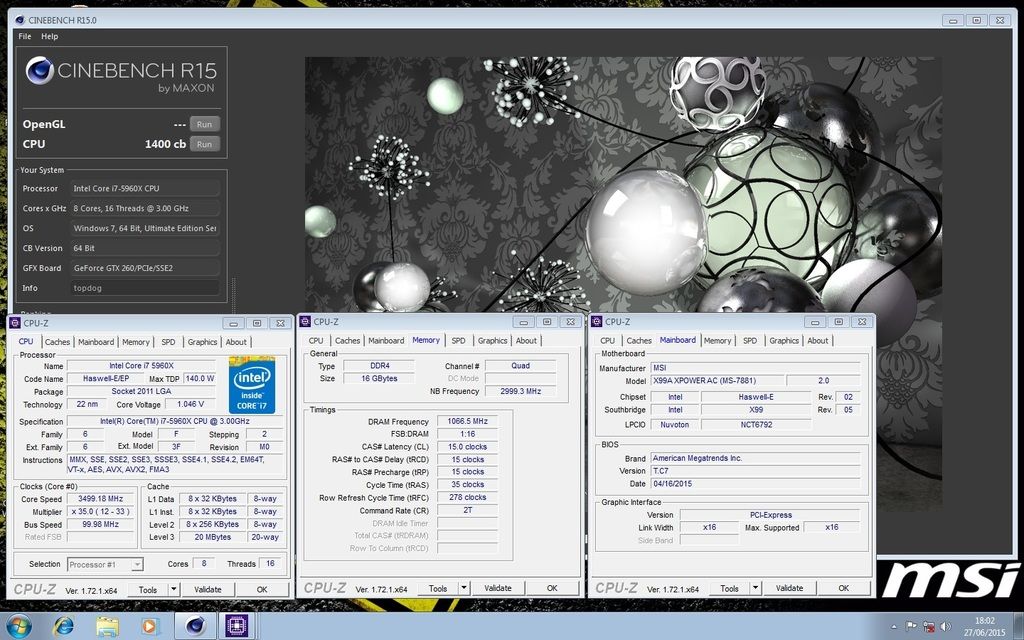 After changing the Base clock to 125 Mhz and enabling the XMP memory profile in the BIOS, leaving everything else at default the motherboard booted first time with the memory at 3000 Mhz CL15 15 15 35 2T

We can see some improvement in the scores.
Cinebench R11.5
Score 15.28 pts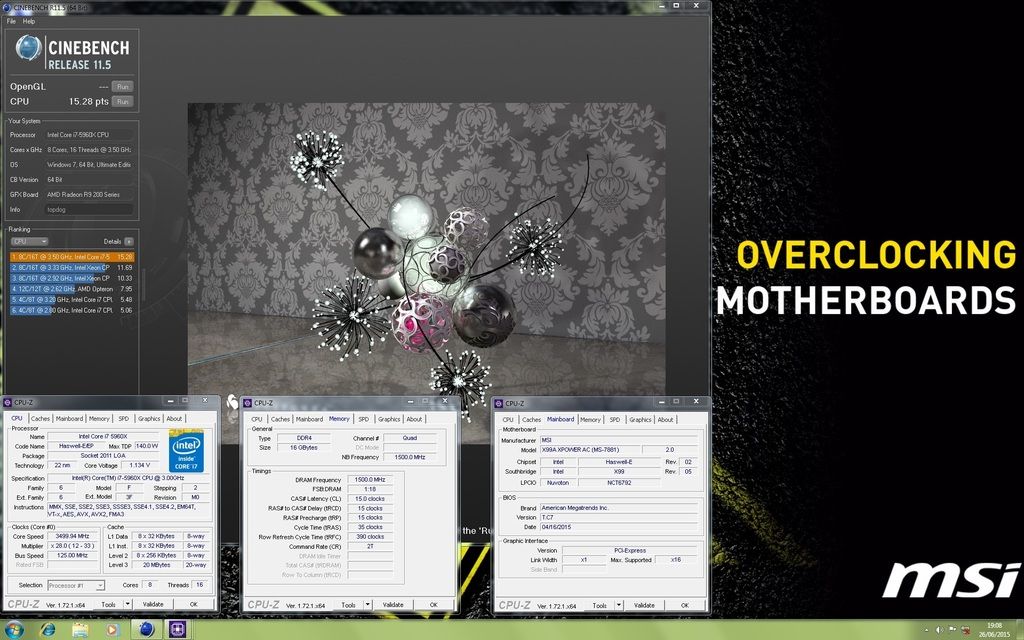 Cinebench R15
Score 1413 cb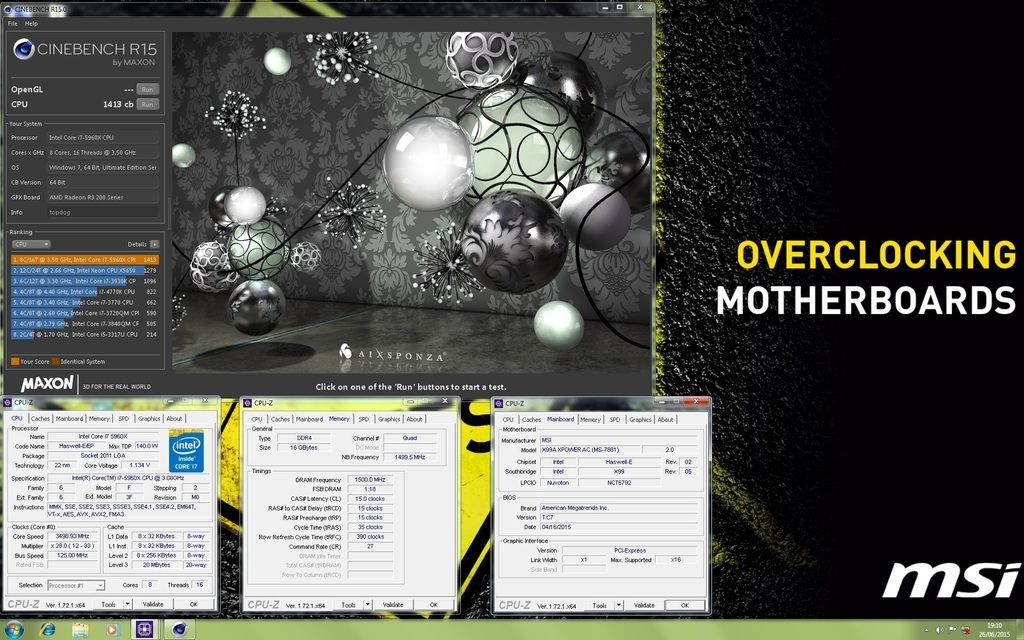 Overclocking the X99A XPOWER AC
Memory Overclocking
Since this motherboard supports Quad Channel DDR4-3333 it had no problems booting into windows with the memory set at 2666 Mhz and the Base clock at 125 in the BIOS.
This resulted in the memory at 3333 Mhz CL17 17 17 39 2T at 1.35 volts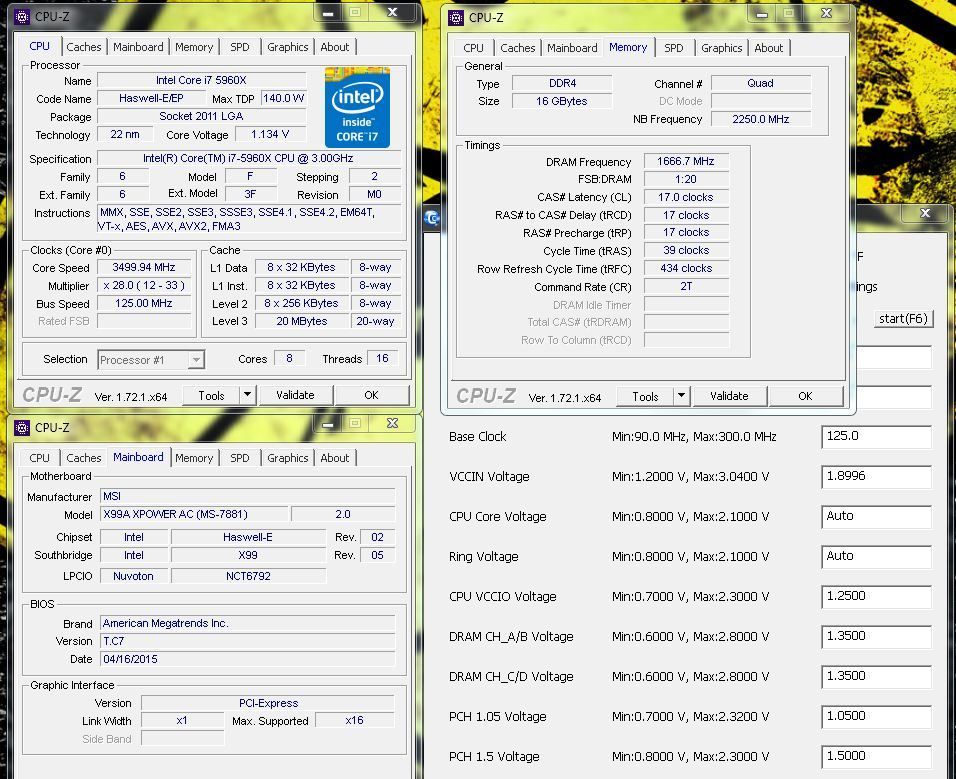 Using the Base clock control buttons on the X99A XPOWER AC it managed to reach 3404 Mhz Quad channel at 1.35 volts
http://valid.canardpc.com/d4rart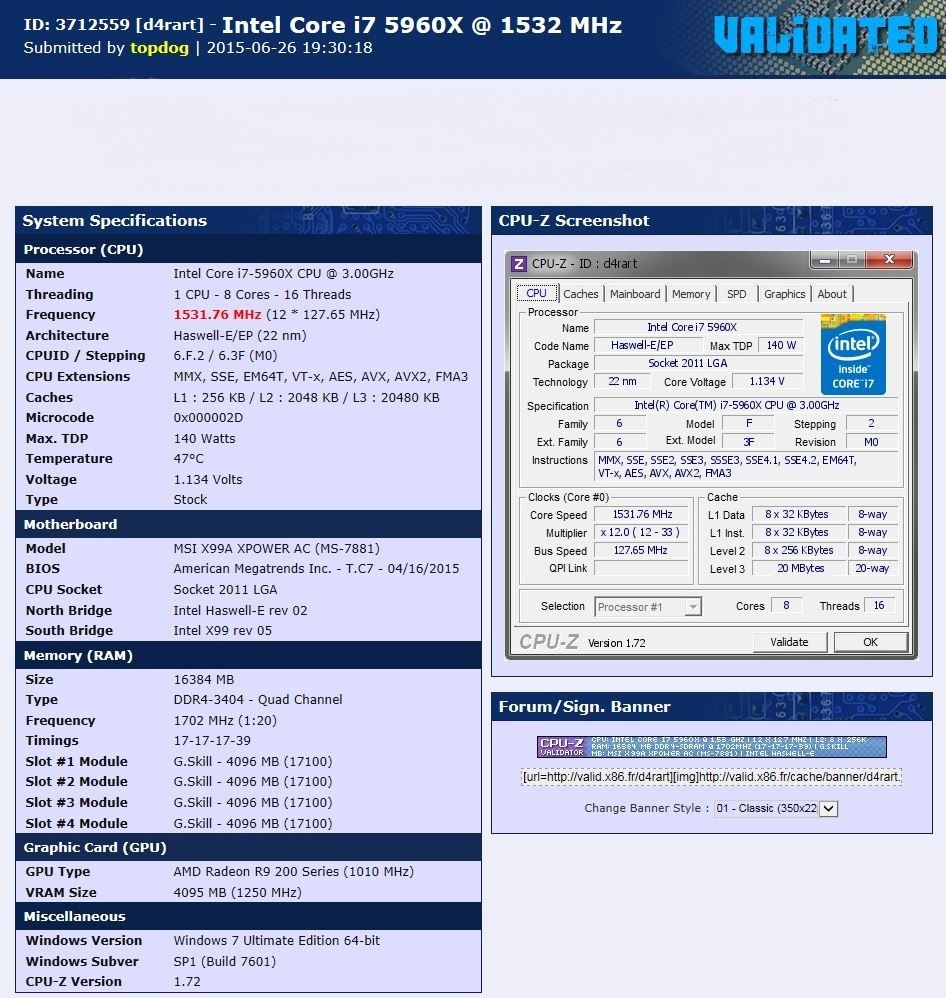 Using only one DIMM with the timings at CL18 22 22 40 2T, increasing the CPU voltage to 1.25v and the memory to 1.4v and still using the air cooler got a resulting memory clock of 3515 Mhz
http://valid.canardpc.com/ingyw1
http://hwbot.org/submission/2906948_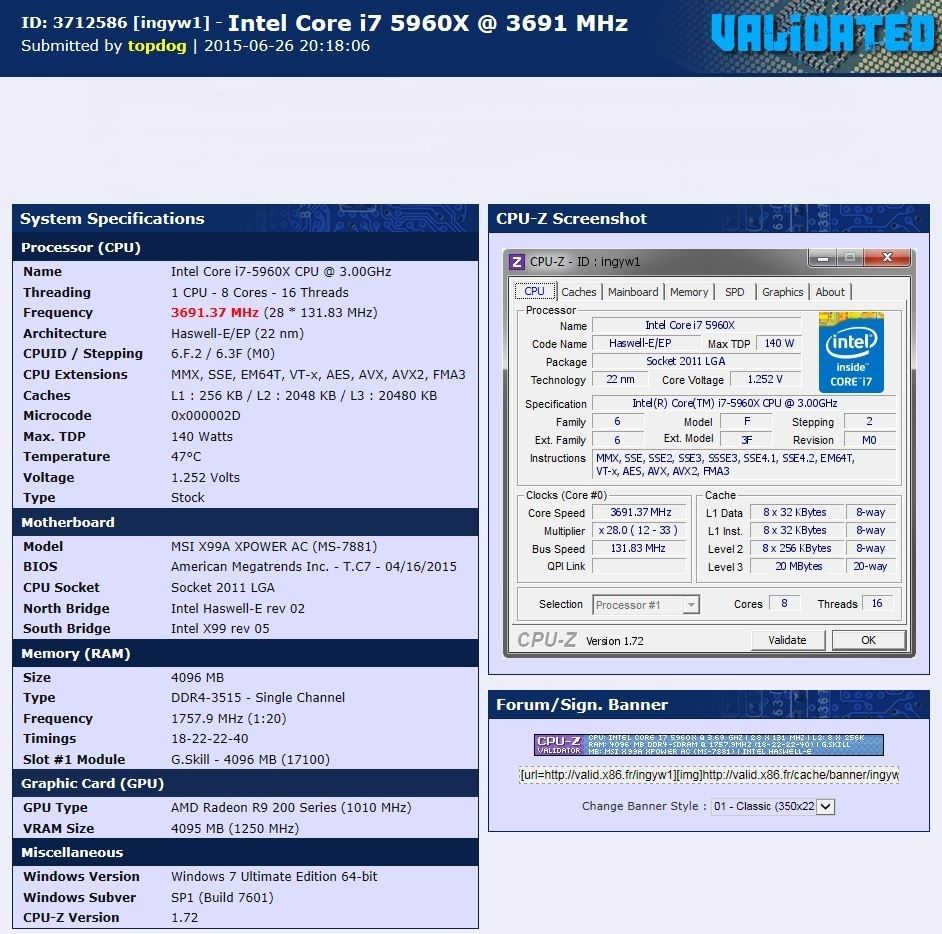 The X99A XPOWER AC has several different memory settings preloaded in the BIOS so lets select the DDR4-3200 CL15 from the Memory Try It ! menu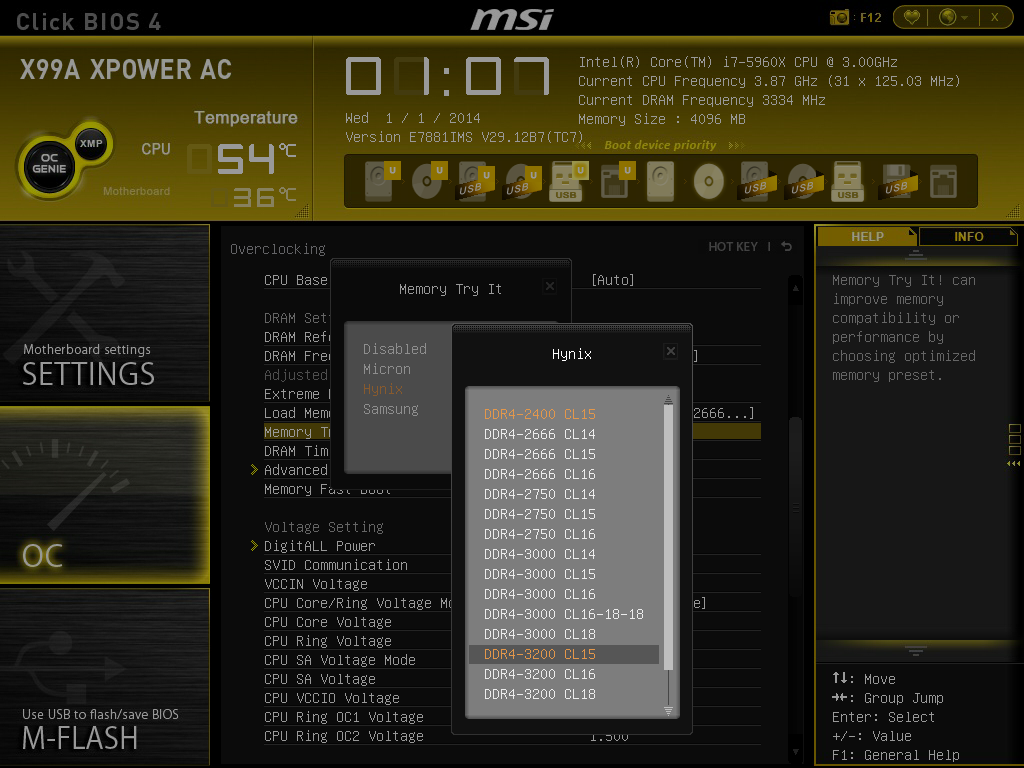 The main timing configuration for this preset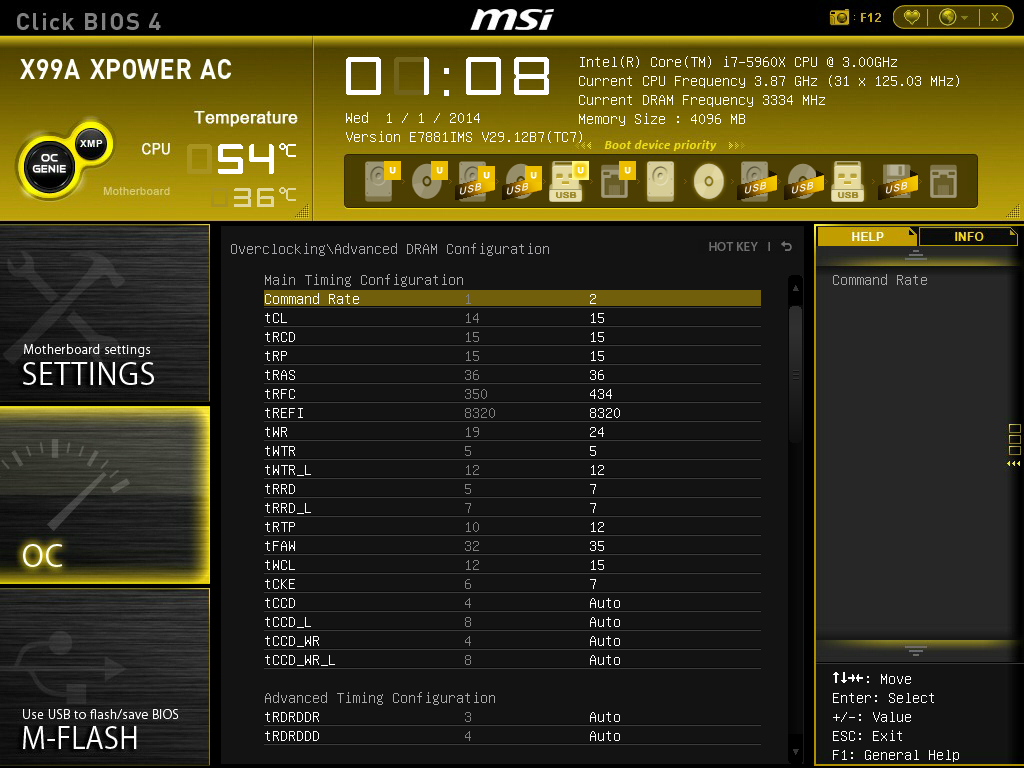 In windows we can see everything is as expected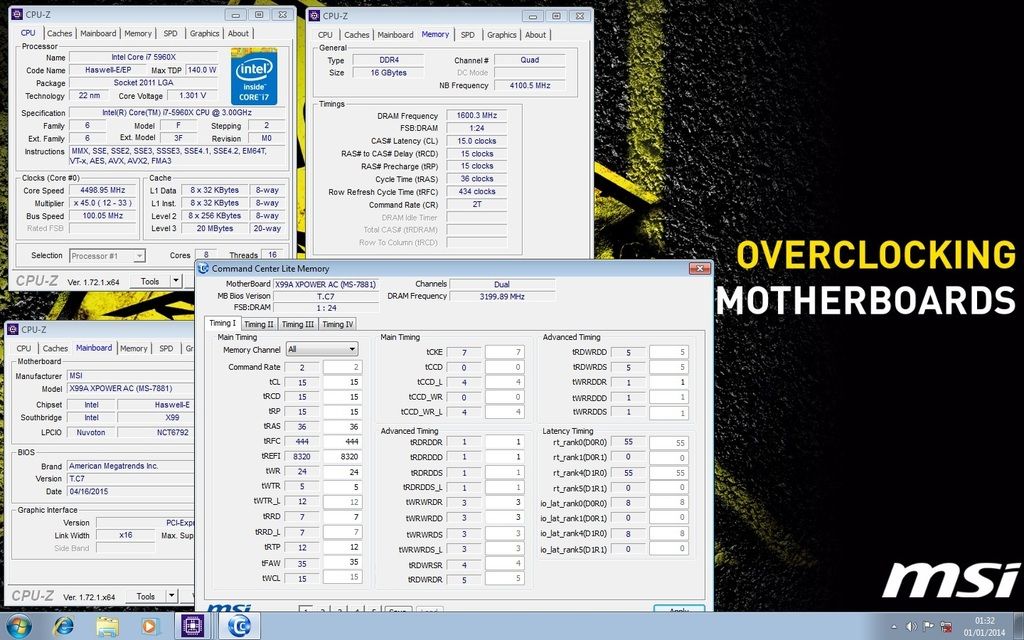 CPU Overclocking
The XPOWER had no problems running the cpu at 4500 MHz with 1.30v and cache at 1.23v
Cinebench R11.5 cache at 3624 Mhz
Score 19.47 pts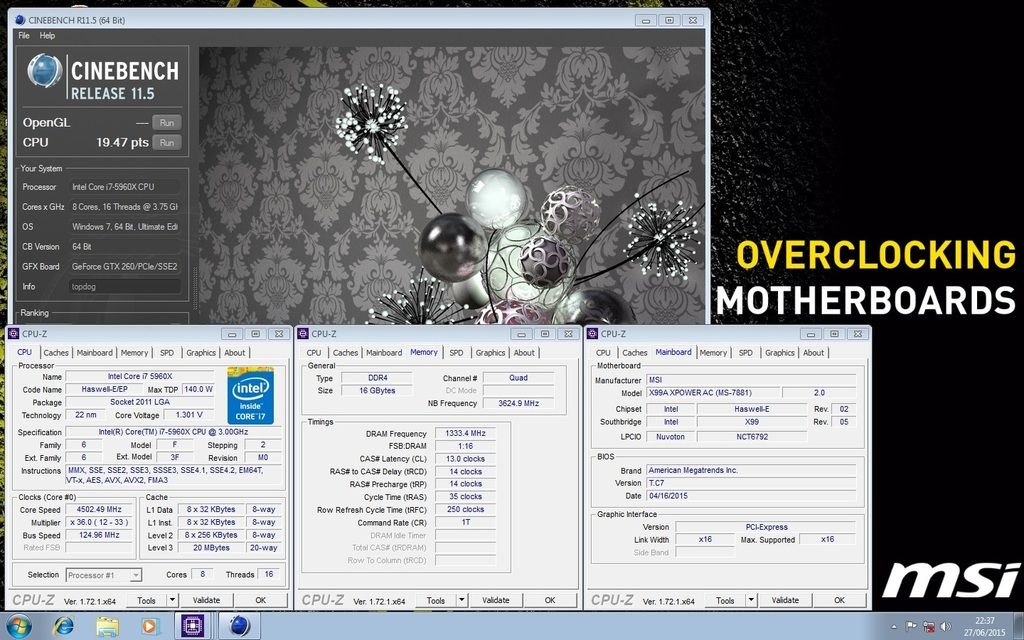 Cinebench R11.5 cache at 4000 Mhz
Score 19.57 pts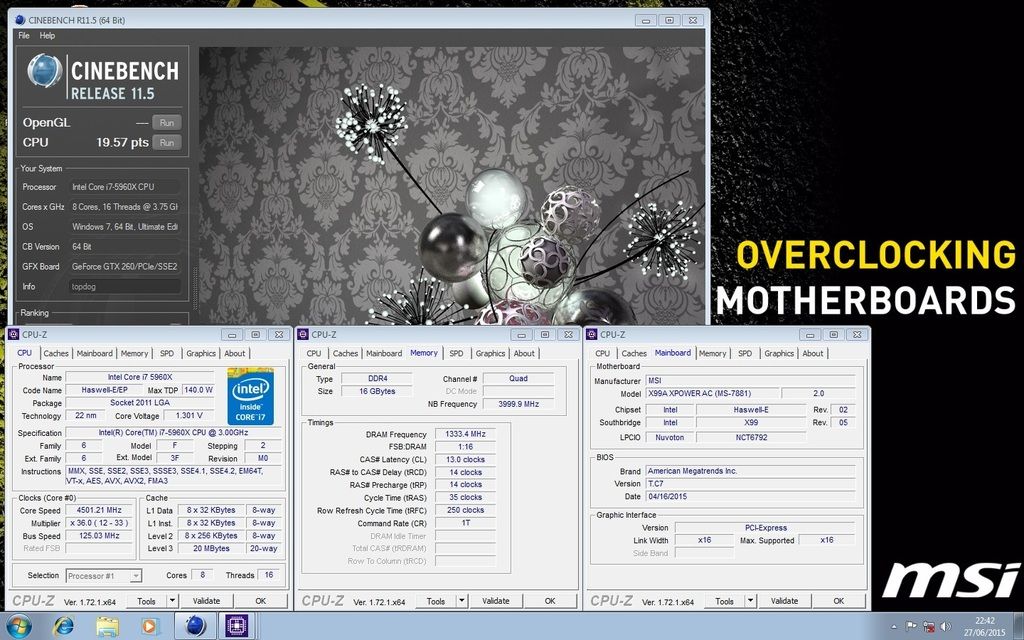 Cinebench R11.5 cache at 4251 Mhz
Score 19.80 pts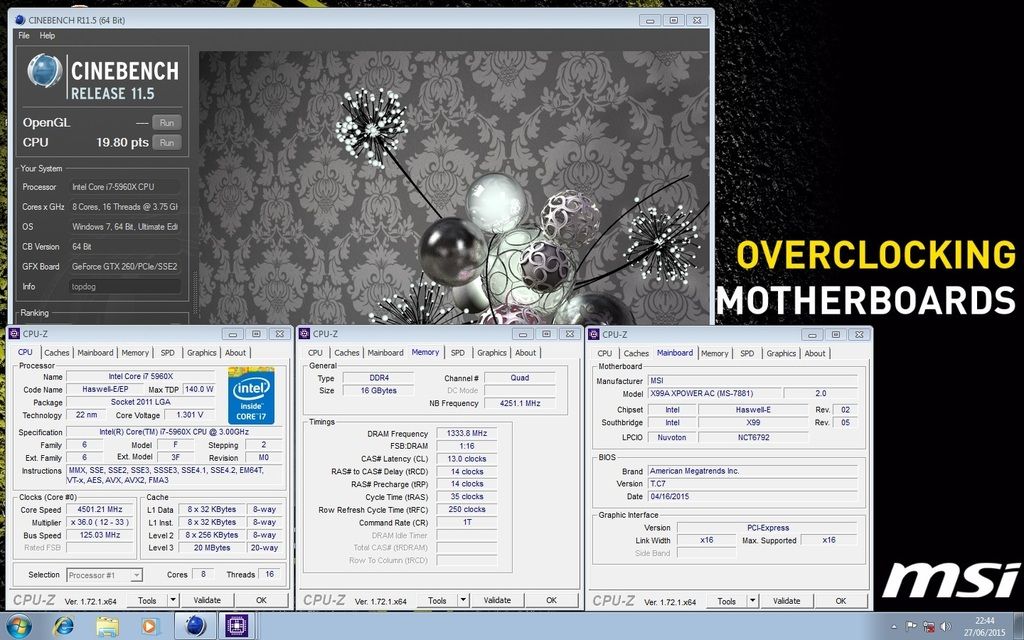 Cinebench R15 cache at 3624 Mhz
Score 1781 cb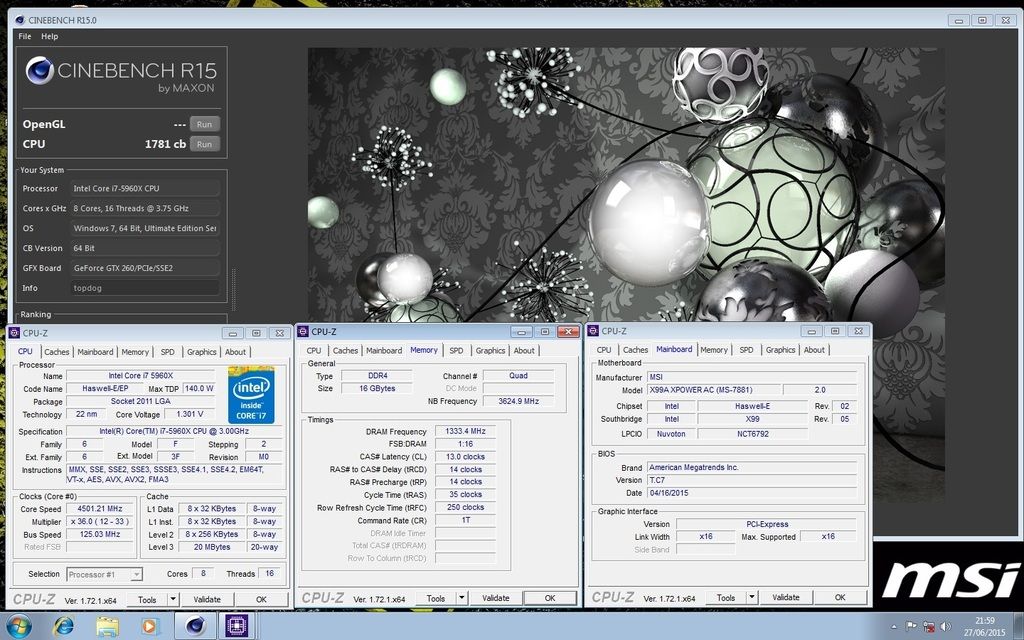 Cinebench R15 cache at 4000 Mhz
Score 1806 cb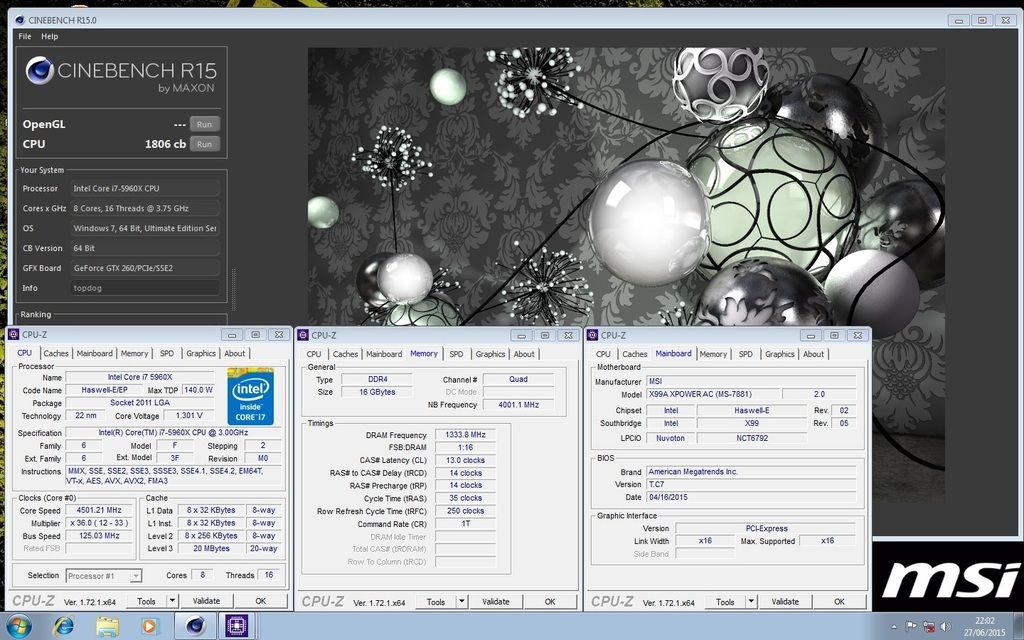 Cinebench R15 cache at 4251 Mhz
Score 1819 cb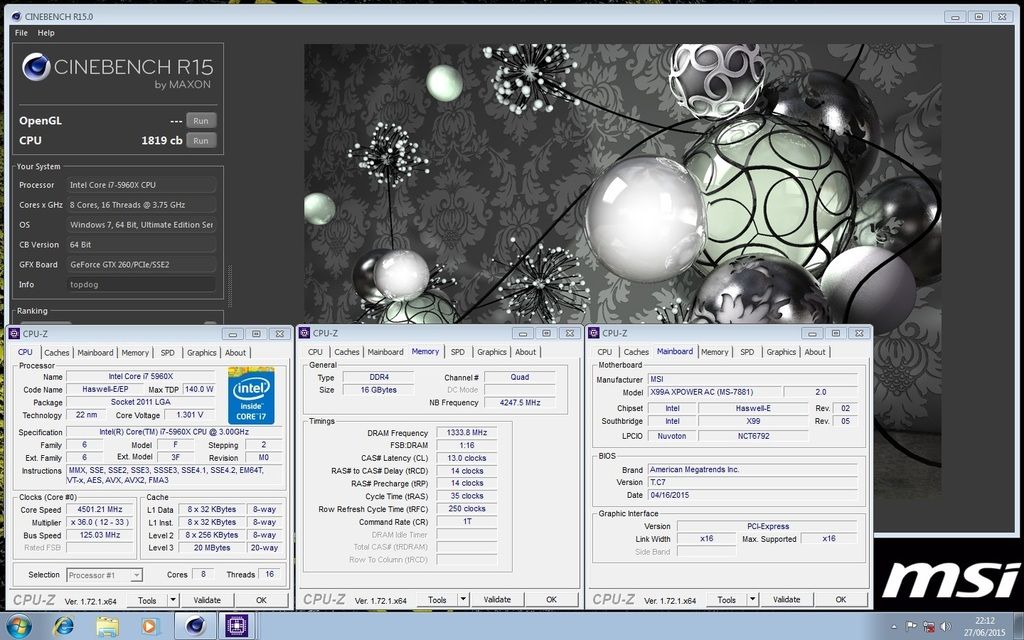 Some more popular benchmarks on HWbot
Geekbench 3 at 4500 Mhz
Score 33675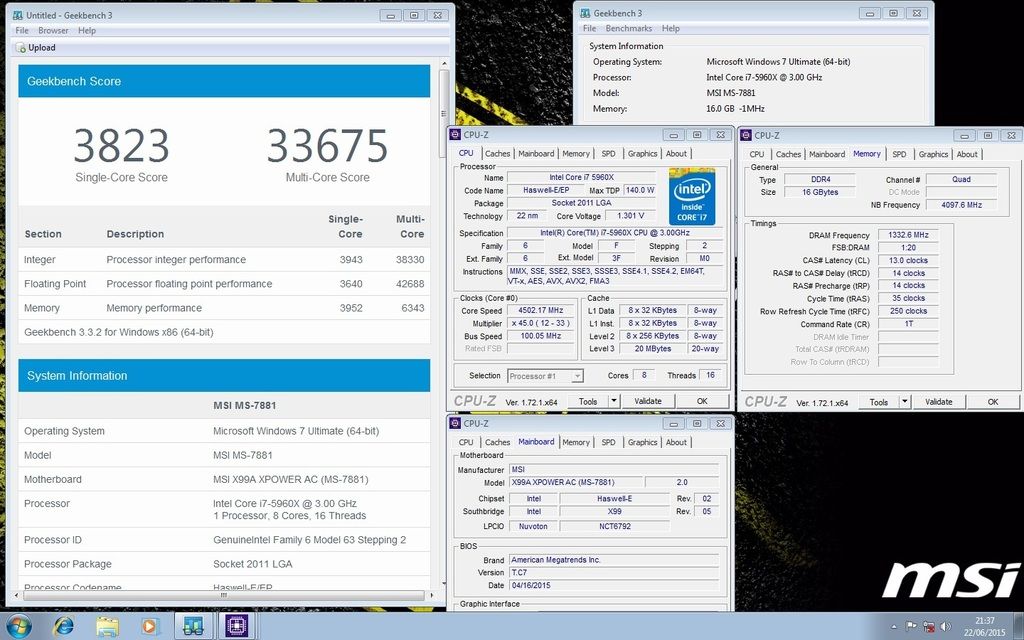 wPrime at 4600 Mhz
32m 2.593 seconds (fastest air cooled 5960X on HWbot)
http://hwbot.org/submission/2906950_
1024m 77.015 seconds (fastest air cooled 5960X on HWbot)
http://hwbot.org/submission/2906951_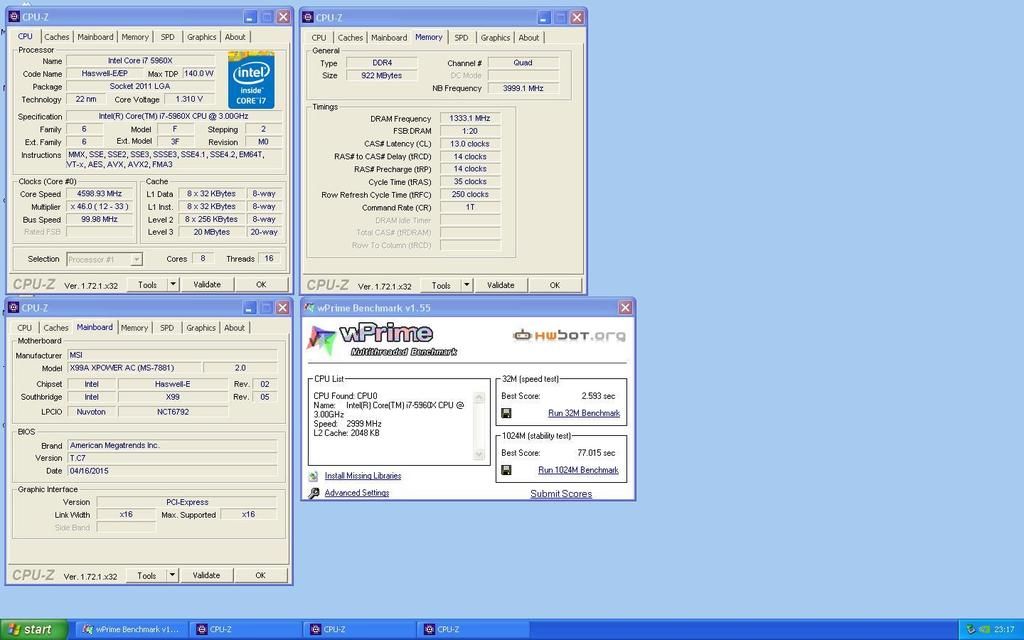 GPUPI for CPU-1B at 4729 Mhz
Time 2m 56.780 (fastest air cooled 5960X on HWbot)
http://hwbot.org/submission/2906955_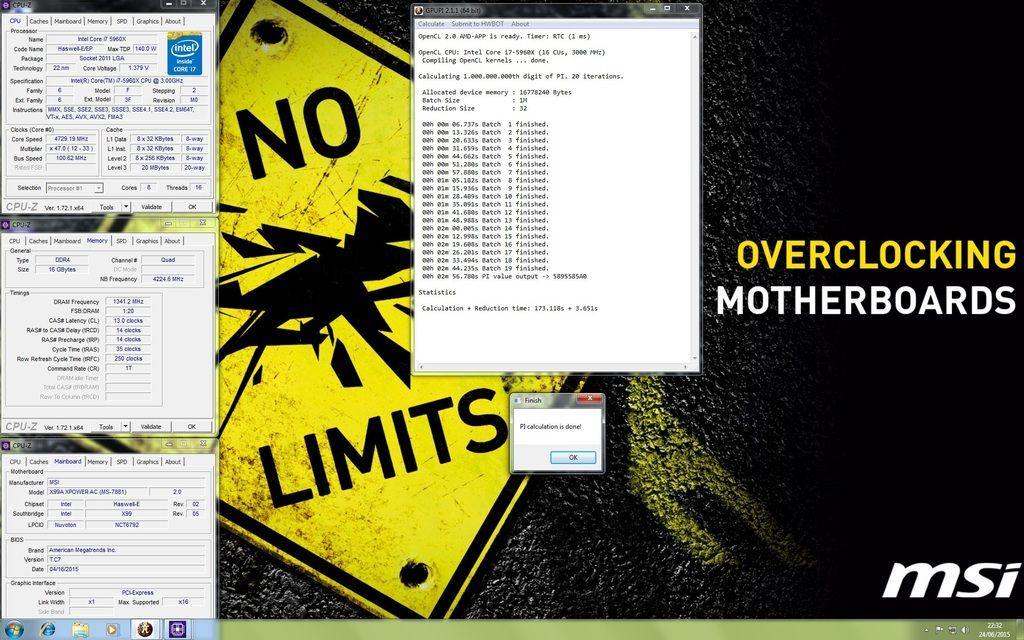 Scores using sub-zero LN2 cooling
Hwbot Prime at 5377 Mhz
9116.52
http://hwbot.org/submission/2907941_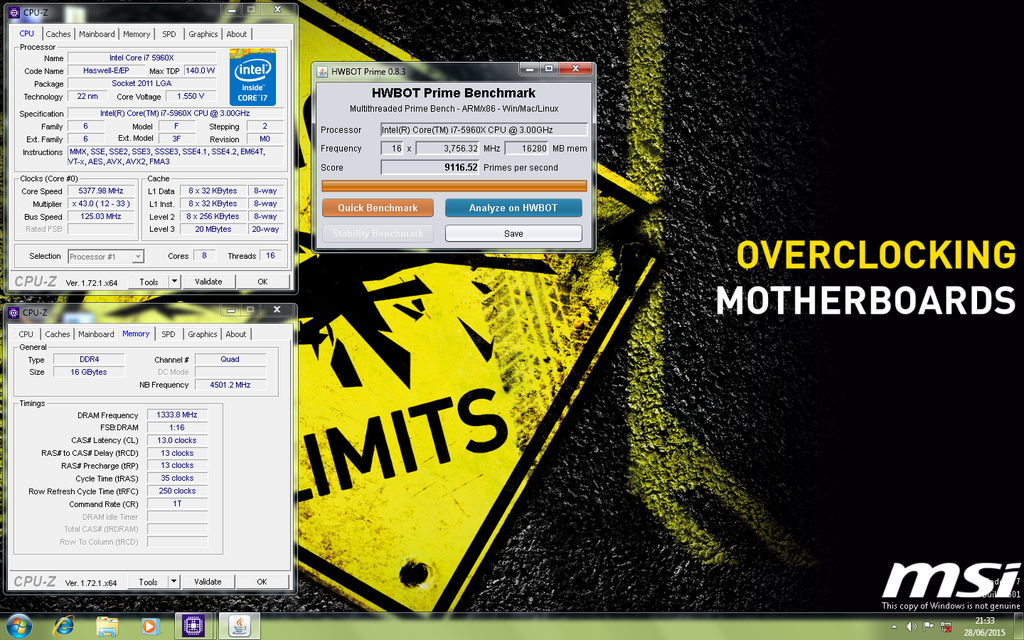 wPrime at 5400 Mhz
32m 2.359 seconds
http://hwbot.org/submission/2907944_
1024m 65.890 seconds
http://hwbot.org/submission/2907948_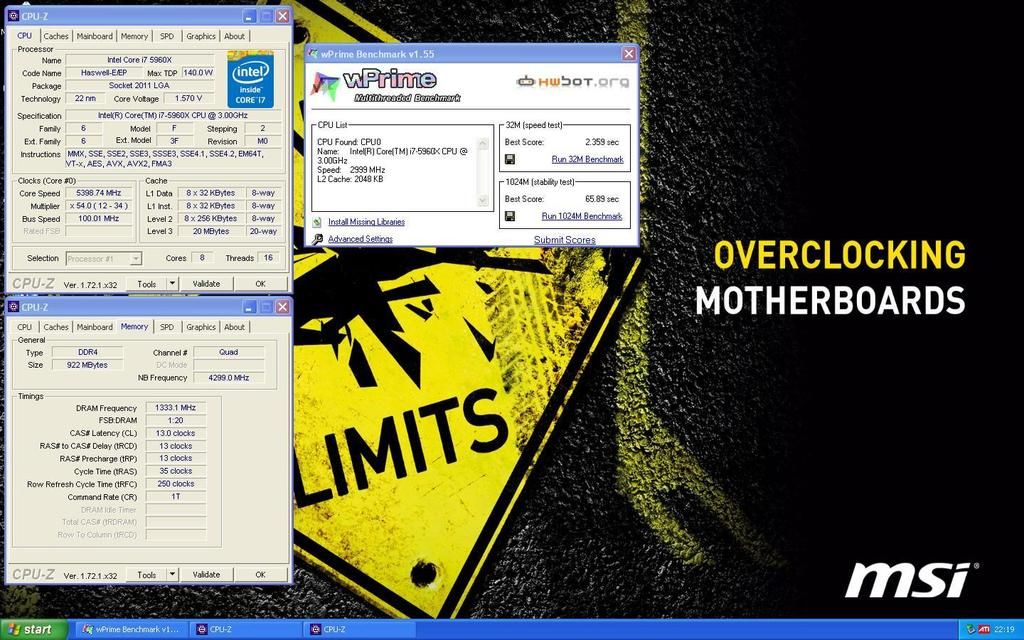 MSI have really pulled the strings out with the X99A XPOWER AC, its design, features, overclocking capabilities and the bundled accessories makes this the best OC board MSI has ever made.
Whatever tweaking goals you have, as long as you have your components and proper cooling this board will not let you down.
Mind you that on air cooling I reached 4700 Mhz, the sky is the limit when you pop some decent water cooling on the processor, or go sub-zero with LN2, the possibilities are certainly there.