Corsair Product Page -
http://www.corsair.com/en/dominator-pla ... 3m4a2400c9
Today I will look at the Corsair Dominator Platinum 2400MHz 16GB (4x4GB) dual/quad channel RAM kit with impressive timings of 9-11-11-31 when XMP is set.
Packaging.
The sticks come in a cardboard box, each stick is secured within its own plastic clam-shell held inside the box by soft foam.
The RAM modules.
The RAM timings are very tight indeed and I believe some of the best to be found in the 2400MHz range.
Being Ver 4.13 they are made using Samsung IC's -
http://forum.corsair.com/forums/showpos ... ostcount=1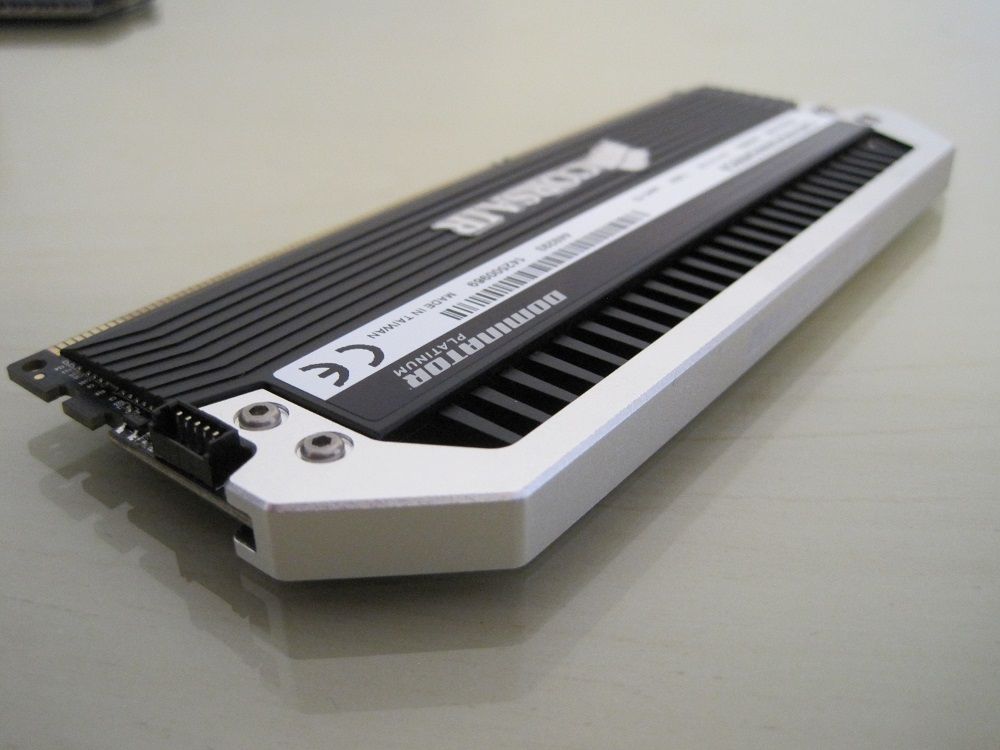 The heatspreader is made from aluminium and the light bar is also easily changeable to other kits available from
http://www.corsair.com/en-gb/dominator- ... pgrade-kit
You can also see the Corsair Link connector which can be used to monitor activity and temperature.
The light bars also illuminate which gives a nice soft glow.
Test setup.
i7 4790K@4.4Ghz (Speedstep/turboboost disable so always 4.4GHz)
Z97 SOC Force
Corsair Neutron GTX SSD
Sapphire R9 290 vapor-X
Kingston hyperX 2400MHZ CAS11
Corsair Dominator Platinum 2400 CAS9
Overclocking.
These have to be some of the best RAM I have used for overclocking and I was easily able to get them to run at 2666MHz 10-12-12-30-190 with a slight increase in voltage from 1.65 to 1.675v. Even setting the command rate from 2 to 1 was no trouble for these DIMMS.
The full 16GB of RAM ran at these settings without issue.
Performance results.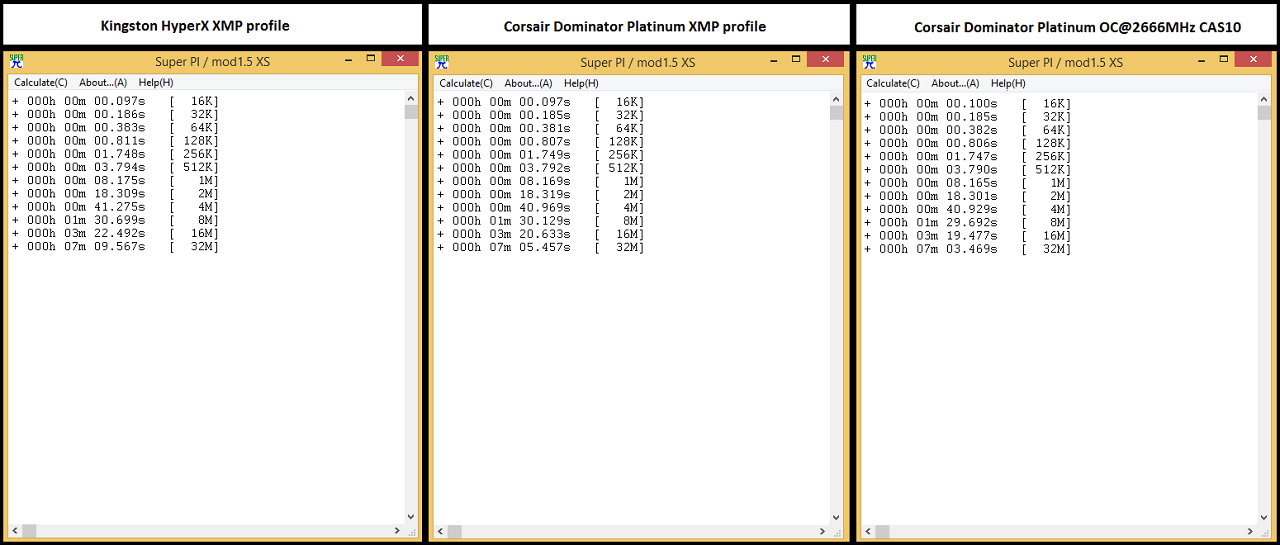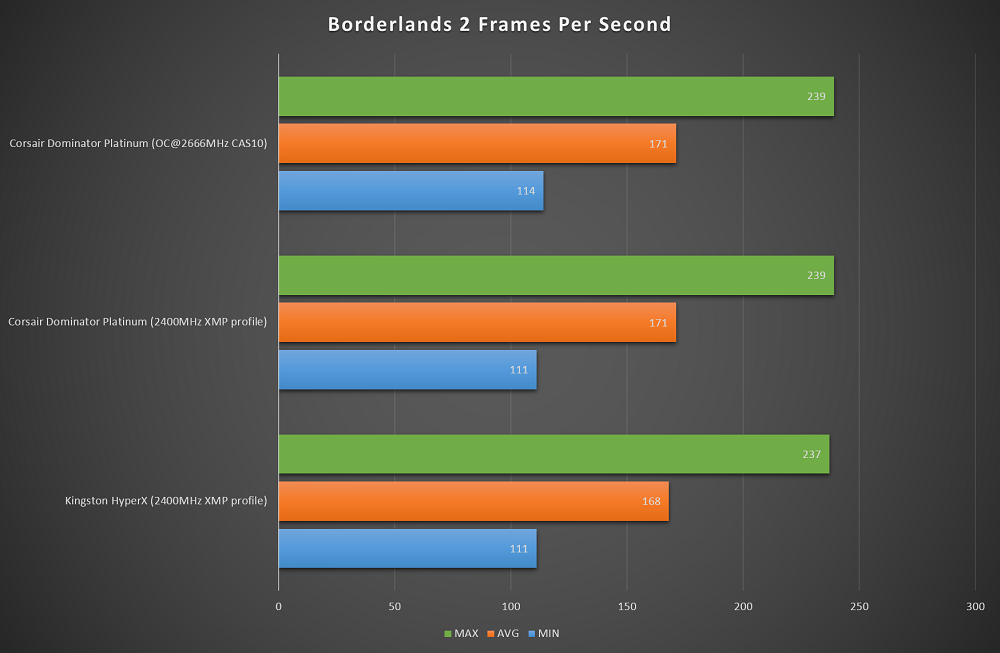 Conclusion.
The Corsair Dominator Platinum RAM is the best RAM I have used to date. It has excellent stock performance and the overclocking abilities are superb. The RAM is expensive but it is well made and looks gorgeous, if you are the sort of end user that wants the absolute best and likes chasing performance numbers then this is the RAM for you.
It also seems to have greater compatibility with my boards, especially my X79-UP4 and i7 3930K that usually doesn't work with my Kingston kit when trying to run at XMP profile of 2400MHz CAS11 and I have to instead run at 2133MHz. The Corsair kit boots perfectly into Windows when set to the XMP profile and runs spot on.
Pros.
Amazing looks.
Top performance.
Amazing overclocking.
Cons.
Expensive.
Additional.
I also tried one of the Team AU/HiCookie 2666MHz with tight timings memory presets found in the memory section of the BIOS which also booted and worked fine.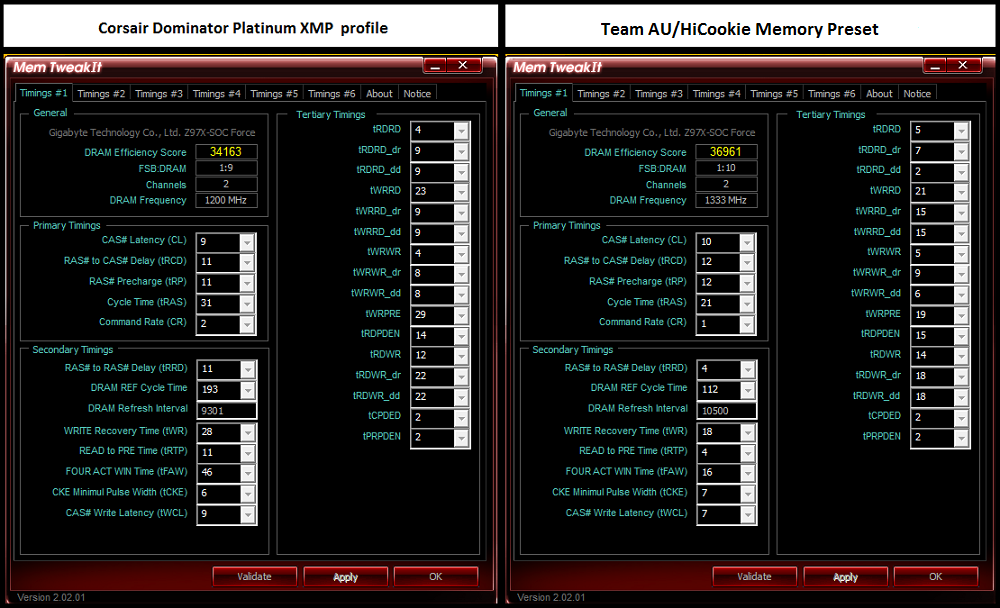 As you can see those are some significant lower numbers when compared to the XMP settings.
This is some of the finest DDR3 on the market and gets a gold from me.