If you are able to use your PC but get the occasional application errors, games hang or even random restarts etc then the Windows Event Viewer is a good place to start looking for the source of your problem. Often over looked, event manager is easy to use and provides a historic view of events (information, warnings, error and critical) that have occurred on your PC and furthermore it's a free feature of Windows.
You can access Event Viewer by clicking Control panel, System and Security, Administration tools then double click on Event Viewer in the list or simply type Event Viewer in the search bar.
Event viewer will present the Overview and Summary screen showing the number of events that have occurred for each event type as shown below.
Notice that in this example we have 86 Errors in the last 24 hours. Let's take a look.
Simply click the "+" icon to the left of the event Type, in the case "Error", to expand and list the events.
Double left click on any of the Event ID lines to expand details. In this example I want to know more about Event ID Error 7000.
Event viewer shows all the Events that have occurred for the Event ID you selected starting with the most recent by default. You can scroll through to see when the error started as that may give you a clue as something that happened that day, such as a software change, driver update etc..
The General Tab shows details of the error. Although at times it can provide useful information, more of the time it can be rather unaccommodating. Look instead towards the bottom of the screen and for the More information "Event Log on line help" to view Microsoft knowledgebase.
The full example of the screen above can be viewed here..
http://technet.microsoft.com/en-us/libr ... 8f9b5.aspx
Alternatively, head over to
http://www.eventid.net
, enter the event ID and the Source (in this case 7000 and Service Control Manager respectively) and click on search. A description of the problem should be returned from the extensive user built knowledgebase but you have to subscribe first.
Failing that, the third option is to Google the event ID for possible solutions. Whichever resource you use, the information is there for you.
Custom Views
Event viewer is in all effectively a database query and we can query and view the data in different ways to suit. The Summary page we've seen above for example, is a Microsoft supplied custom view of the database but we can create our own. Let's have a go.
Let' say I've been getting a display problem ever since the 1st October, I want to check for any display errors on that day.
Click on Custom view on the right hand side.
The Create custom View dialogue box appears which various filters you can apply, such as dates and date ranges, type of event, users and so on. I'm going to apply a filter to only show display errors that occurred on the 1st October as seen below but you can apply your own.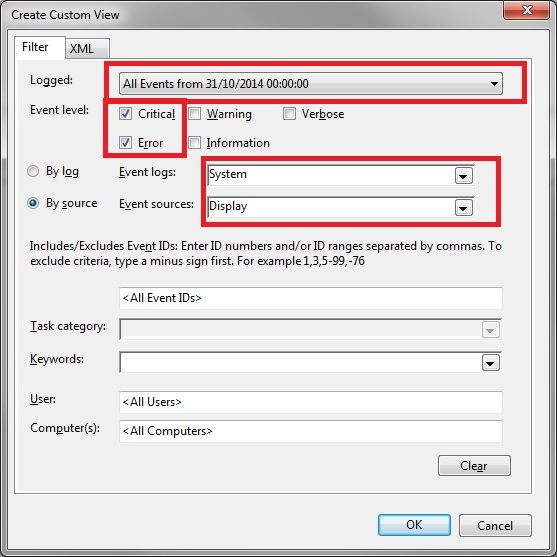 click ok when done
You are prompted to give your view a name and a description. Specify these and click ok.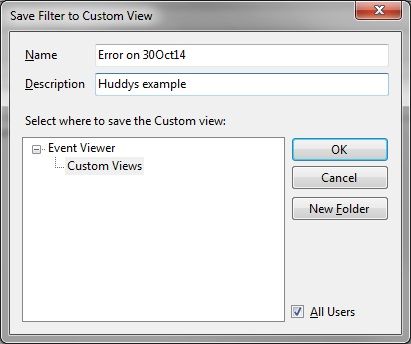 The view is now saved under the custom views tree on the left hand side and you can run the view at anytime.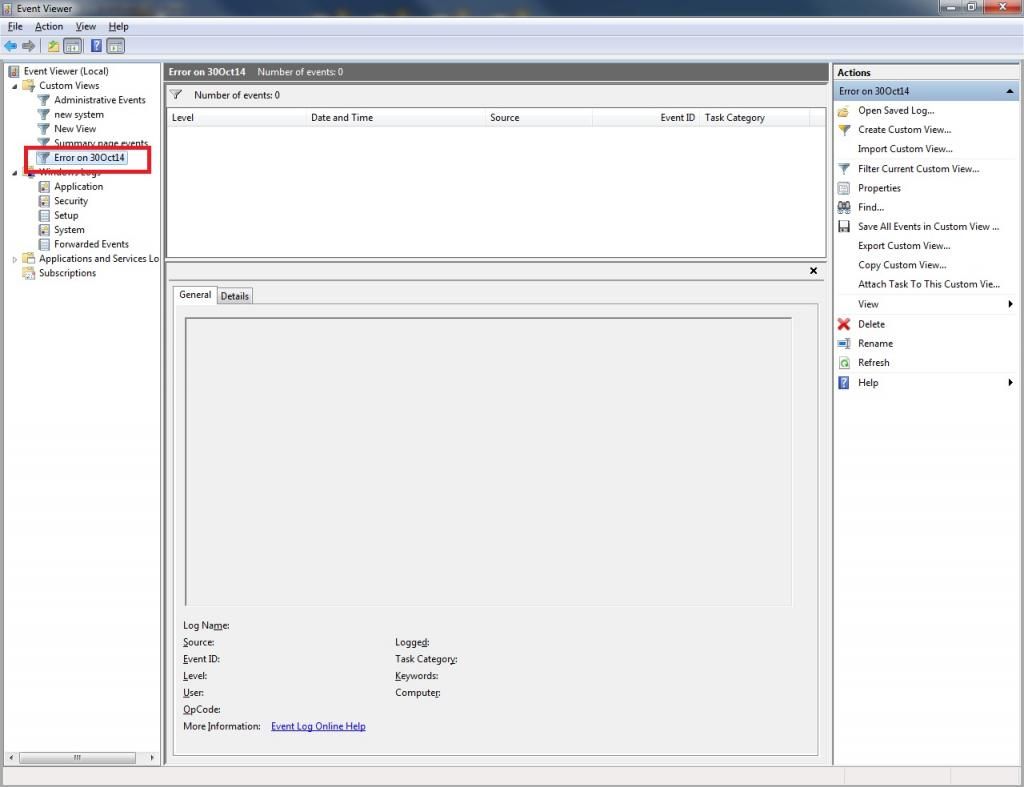 Unfortunately my example doesn't show any entries but shows you how this can be done.
Windows Logs
You can select groups of events to relating to Applications, Security, Setup, System, etc depending you have a good idea where your problem is. So if you know your problem is software related for example, you can look in the Application group for software events only.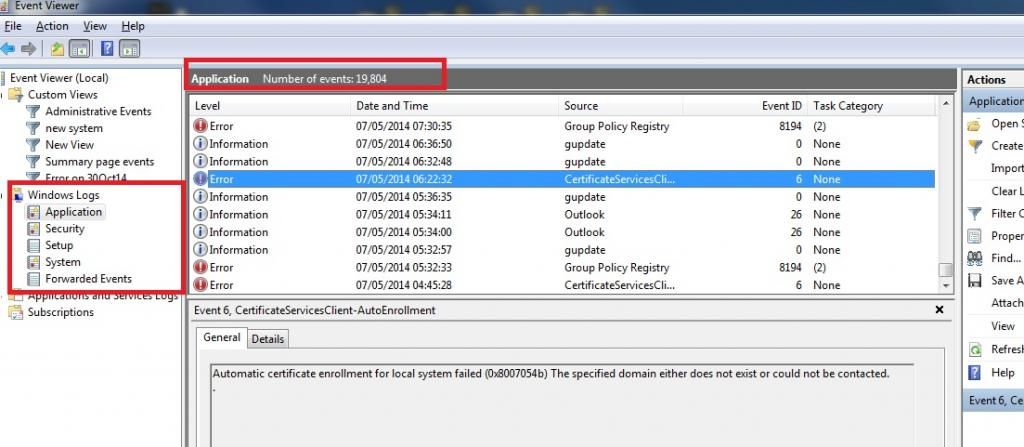 Get into a habit of periodically looking in the event viewer anyway. Just to make sure nothing's lurking around you don't know about.
I hope this helps
If you have any questions or wish to discuss then please join our forum - all are welcome